For all of you that don't know, we have teamed up with Feast Media, giving us another platform to spread our love for grub. Here's one of our most recent posts from grubber Matt Walker:
(via Feast Media.)
Sorry for the delay, been super busy at work lately, but still trying to get these gains and help people save money and eat good! That's what we're all about at JG… food and helping people.
So part 1 brought you the bacon wrapped pork tenderloins. When you cook 2 big ass tenderloins, odds are you're gonna have some leftovers. So there was quite a bit left over from meal 1, and I was feeling some BBQ, so I decided to make BBQ Pulled Pork Sammies.
Now since the tenderloin was already cooked, and I needed to "pull" the pork, I found a short cut into shredding already cooked meats, and it is a lot easier than waiting 5 hours to finally have the meat fall apart in a crock pot. Enter a double prong cake beater. This redneck shredder will save you so much time on shredding meats for pulled meat sammies/tacos.
So at this point, you will put the remainder of the medallions into a plastic bowl (glass may chip) and start shredding! This process will take about 5-10 minutes depending on how much meat you have left over. After the meat is shredded set aside until its time to reheat.
At this point, you have spent $0 and will yield a ton of meat for maybe up to 4-8 sandwiches. The only thing I had to purchase this round was rolls and BBQ sauce. My local grocery store has a loose roll bin that runs 4 for $1 so it's a no-brainer. Now I'm gonna go on a rant on how shitty Maryland rolls are. They blow. I hate everything about the rolls here. They are so soft and chewy versus the Philly rolls, crusty crispy exterior, and soft chewy interior. Anyway, beggars can't be choosers. So, my total for this meal was $3.67.
I paired this meal with some of the potatoes I bought from the previous meal, and made garlic Parmesan French fries. And made a spicy garlic aioli to pair with the fries.
So now its time to cook, again I don't use recipes, I just look at my ingredients and just roll. So the fries, I just frenched them jawns and then in a bowl mixed some olive oil, garlic, and Parmesan and then put all that in a zip lock bag and mixed it. I put them on a baking sheet and put them in the oven for about 45 minutes or until cooked to a golden brown crisp.
The pork, being already shredded, add it to a pan with a little bit of water and let simmer for like 20 minutes stirring every 4-5 minutes. In the last 3-5 minutes of warming up, add in your BBQ sauce and continue to warm for the final 5. Toast your buns, and place the pork on the buns and add a little more sauce, and then bon appetit.
Want more dining options? Check out more Just Grubbin suggestions here!
Reheating the Pork in the Pan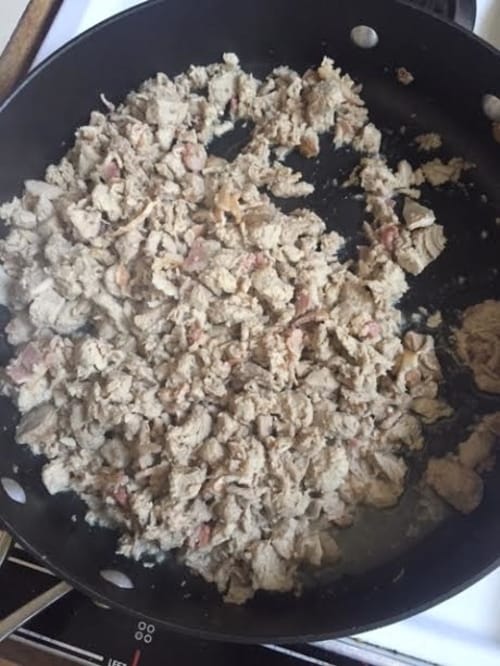 What a Beauty