For all of you that don't know, we have teamed up with Feast Media, giving us another platform to spread our love for grub. Here's one of our most recent posts from grubber Lauren:
(via Feast Media.)
Philadelphia's premiere food festival is back for it's third year, here's our guide.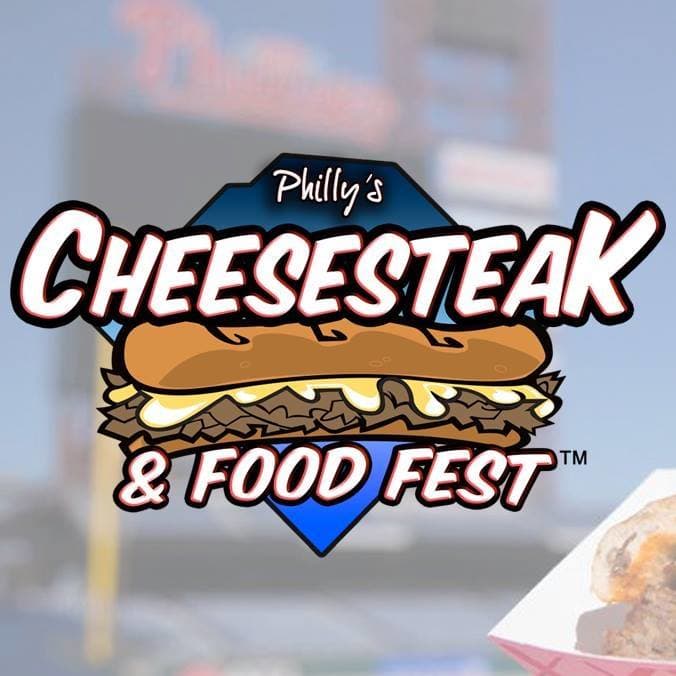 The Philadelphia Cheesesteak & Food Fest is back baby!
Everyone knows that Philadelphia is the home of the Cheesesteak; that and sweatpants. For those of you that don't know, maybe you live in Idaho or simply lack the sophisticated taste buds it takes to enjoy such a glorious sandwich… the cheesesteak is Philly's signature sandwich. It's simplistic in its beefy and greasy nature but boy oh boy is it magical. The demand is so high in certain areas and restaurants that you almost have to speak a different language to order. If you're from out-of-town and happen to wander over to Pat's or Genos (the most popular tourist spots) you're bound to hear a variation of "Whiz 'Wit", "Whiz without", "Whiz 'Wit Mushrooms" etc. etc. it's truly an experience.
So, of course, the city of brotherly love was bound to throw a festival to celebrate this marvelous combination of grease, meat, and cheese. The first year of the event had its hiccups but you can basically say that about any event of this size and stature on their first go around. The hosts responded to the criticism though and threw one of the best food festivals of 2016! Getting overwhelming praise and rave reviews all over social media.
So when I got the email about the 2017 Cheesesteak Festival you bet your ass I started looking online for the classiest pair of sweatpants I could find to cover this bad boy. This year's event held at Citizens Bank Park promises to be even better than last years with all sorts of good shit planned. Events and activities will include:
The vendors take great pride in this event.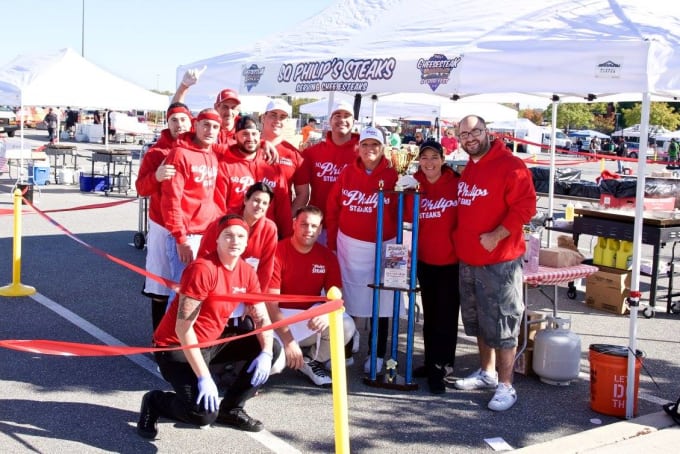 Over 40 of Philly's finest cheesesteak and food vendors – Make sure you come with your appetite otherwise you'll have your pants unbuttoned ready to take a fat nap right on the Citizens Bank Park steps. My first year I went absolutely too hard too fast and almost told my group of friends to simply leave me behind. Yes, it gets that serious. Check in on the website closer to the event for a complete list of the vendors participating this year.
The Kid Zone will have plenty of entertainment for the young cheesesteak fan
Kids Zone Carnival Area – For those of you that have little one's they will have a nice little carnival area for the rugrats to run off some of that grease in their bellies between food stops. This is huge for parents because we all know how short the attention span of a child can be (immediately stops writing article and starts staring at the fly on the window). You can also have the kid's take pictures of the Festivals mascot Cheesy.
The Cheesesteak Eating Competition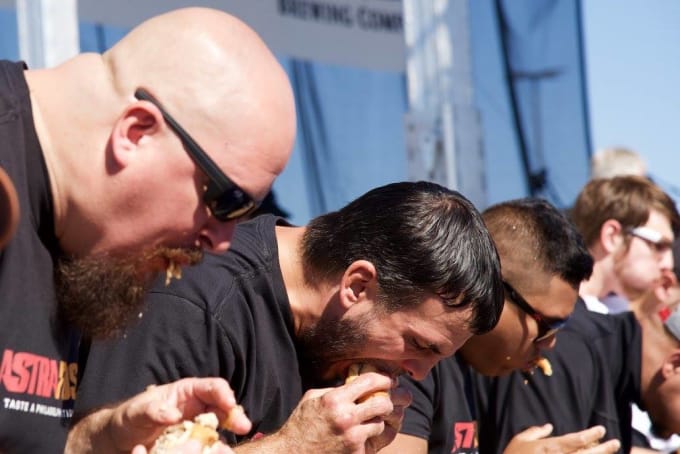 Cheesesteak Eating Competition – For the professional cheesesteak indulger, you get a chance to put your money where your gut is! I personally can't wait to watch this event, outside of the obvious….this is most certainly going to be the highlight of my day. Because you KNOW there's going to be some characters involved. We may even have a member of the JG team participating in the event, you'll just have to come and see.
Live Entertainment!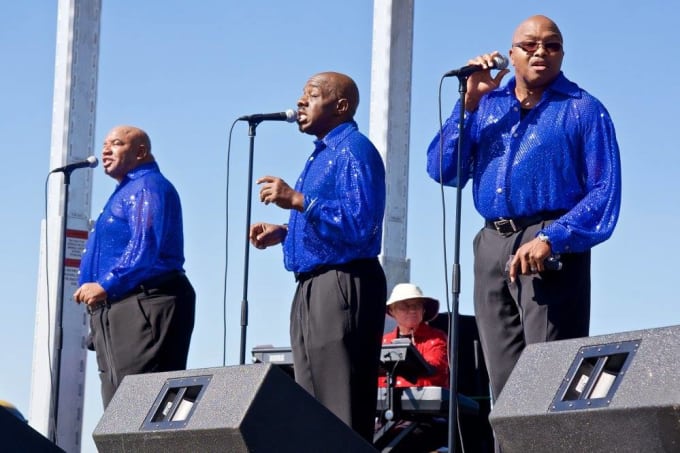 Live Music – Who doesn't enjoy some live music while enjoying life's simple pleasures. If you see anyone hitting the meanest two-step at the event while eating a cheesesteak and holding a beer it's most likely me. Don't judge me, sometimes the food and atmosphere just take over.
The scene of last years event getting underway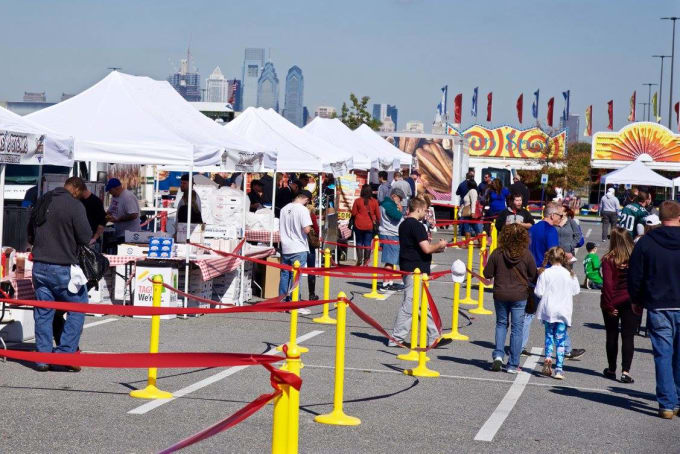 Craft Beer Garden – This is a nice edition to this year's event! For the people that like to participate in some adult beverages, there will be a nice beer garden you can hit. Definitely, have to wash your delicious steak down with a cold brewski.
The best view ever while devouring a cheesesteak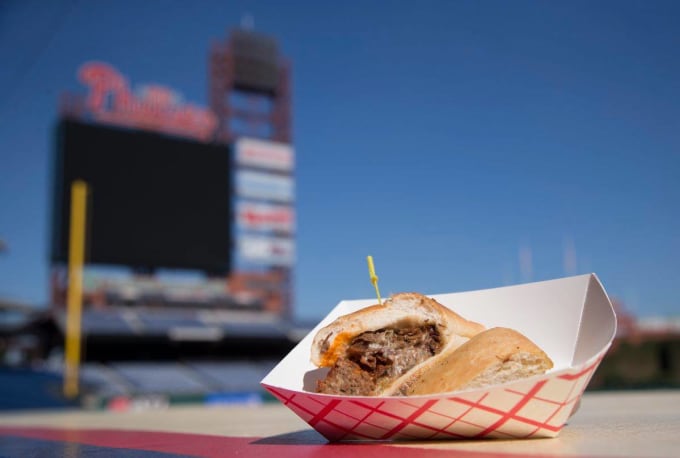 Wouldn't be a premiere event without the Phanatic riding around.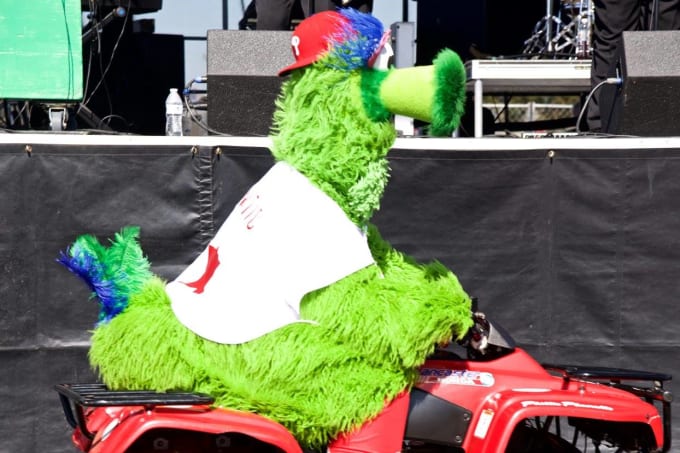 Happy Customers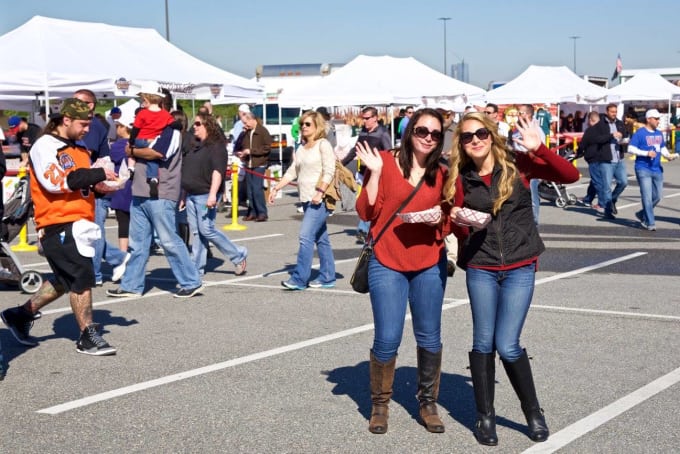 Cheesey the Cheesesteak!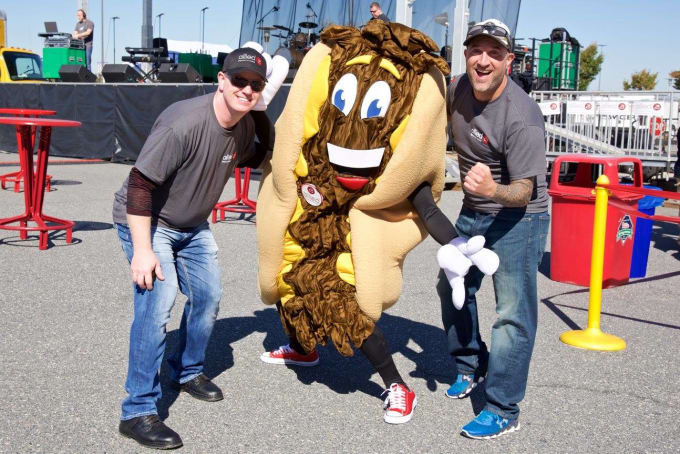 Serving joy with every sample.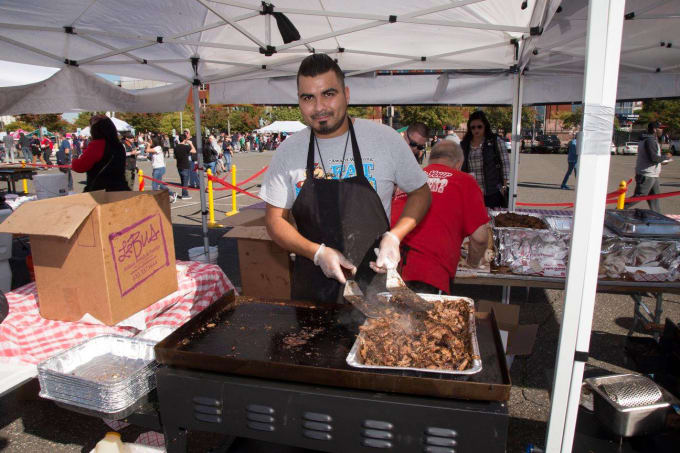 Free Parking – Not much to say here besides…hell yea! Anyone that's ever been to the Philadelphia's sports complex understands how big this is. Also a little pro-tip…get there a little early so you can enjoy all the people in the City of Brotherly Love tailgating in the parking lot and playing games. Yes, your damn right we tailgate Food festivals.
Tickets – They have VIP and regular tickets, now if you listened to episode #3 of the podcast you already know how I feel about just paying the extra money for the better experience. You can't go wrong either way here though, know why? Every ticket purchased comes with two FREE Phillies tickets! Talk about motherf*ckn value..and…AND…you have an opportunity to walk the bases. Me personally, I'm going to be out there like The Freeze in my cheez whiz stained sweats. Seriously though everything your getting with these tickets are one of the many reasons this event is so special.
The event will also be supporting a great cause in Kisses for Kyle, which supports pediatric cancer. You can purchase tickets and find out more about the event here. If you attend the Festival and see a JustGrubbin or Feast Media shirt make sure to stop and say what's up!
Here are some reviews of our favorite cheesesteak spots for those of you that still have no idea what you're in store for.
Want more dining options? Check out more Just Grubbin suggestions here!