Feast.Media

– We attended the Art, Music and BBQ event that took place at MilkBoy in Philly.
**Lauren and Mo are members of the JG blogging team. They love music, art and REALLY love BBQ. So, of course, they decided to cover the Art-B-Que 2 event that took place July 16th at MilkBoy in Philadelphia.**
---
Lauren: When I was perusing one of my favorite Philly food blogs, Philly Grub, I noticed a headline that caught my eye "Art, Barbecue, & Beer at Art-B-Que 2 at MilkBoy this Sunday." So you mean to tell me, I get art… beer… live music… AND BBQ!? Man sign me the hell up, I immediately hit up Mo after reading the blog post and he was instantly down to ride. So as we walked up to the bar all you saw was a beautiful smoke coming off the grill, the smell of fantastic meats, and just dozens of people outside enjoying libations from local brewery's while soaking up the sun and the scene. We knew our Sunday was about to be lit when we were greeted by this fantastic piece of art (I'm low key mad I didn't buy it) and the homie Tom Bera from Philly Blind Pig.
Fantastic Art for Sale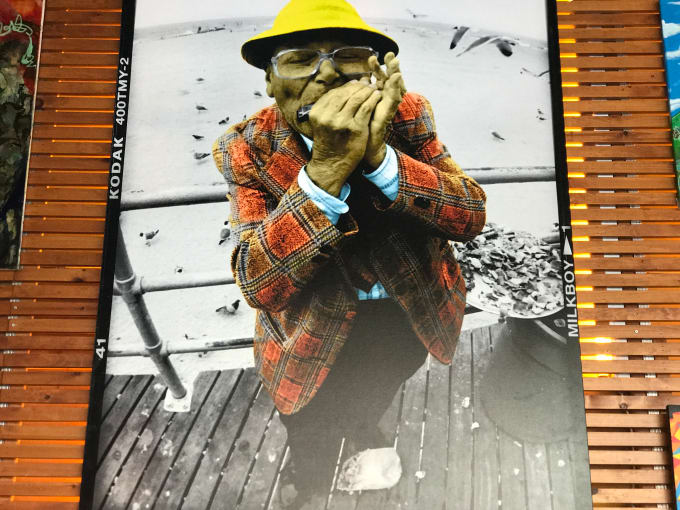 The event started at 2 pm and we didn't arrive until around 4:30 but I'm happy we got there when we did because Tom's Pigstrami master piece was almost gone. Folks I haven't had anything like this before in my life; he took a whole pig and stuffed it with Swiss, cooper, and kraut. This had every part of my inner fat man break dancing, he chops it up and serves it on a rye roll with Russian dressing. It was so damn good that I probably could have just eaten three of those bad boys, left and would have been completely content. One bite in and I was taken back by how fantastic this was damn sandwich was. The meat was cooked perfectly and you could taste all the ingredients blending together into an outstanding pork melody. So, as you can see, the event was already off to a good start in this foodie's eyes.
Sidenote: A few members of the team got to hang out with Tom at the bar, he's a truly awesome dude and we definitely have something in the works for the future so look out for it.
Pigstrami Sandwich from Philly Blind Pig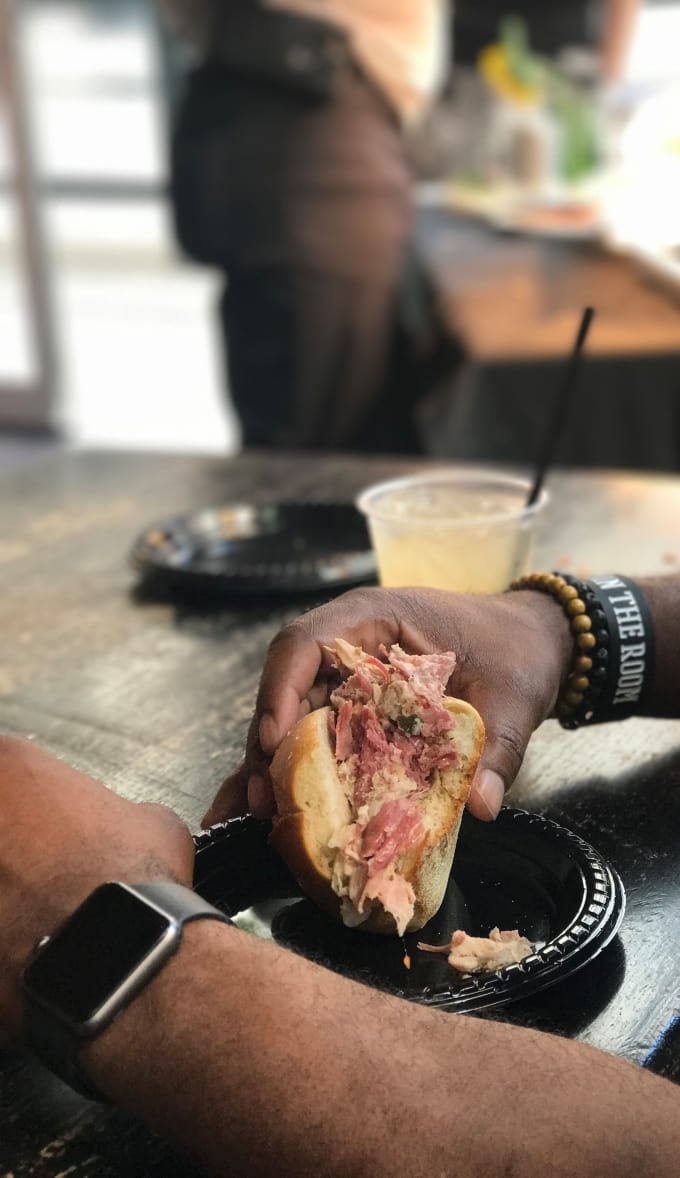 After going outside for a few to peep the scene and grab a drink, we decided to head upstairs where the live band was playing. Upstairs had a stage, a bar, and art all over the walls but more importantly, it had more BBQ for us to indulge in. I immediately grabbed the pulled pork sandwich and macaroni salad from MilkBoy South Street and went ahead and doubled down and also grabbed the spare ribs and potato salad from MilkBoy Chestnut. We grabbed a table right near the stage and it was like the music became my personal soundtrack titled "Smacking on BBQ: You Know You Want Some vol.11."
BBQ Glory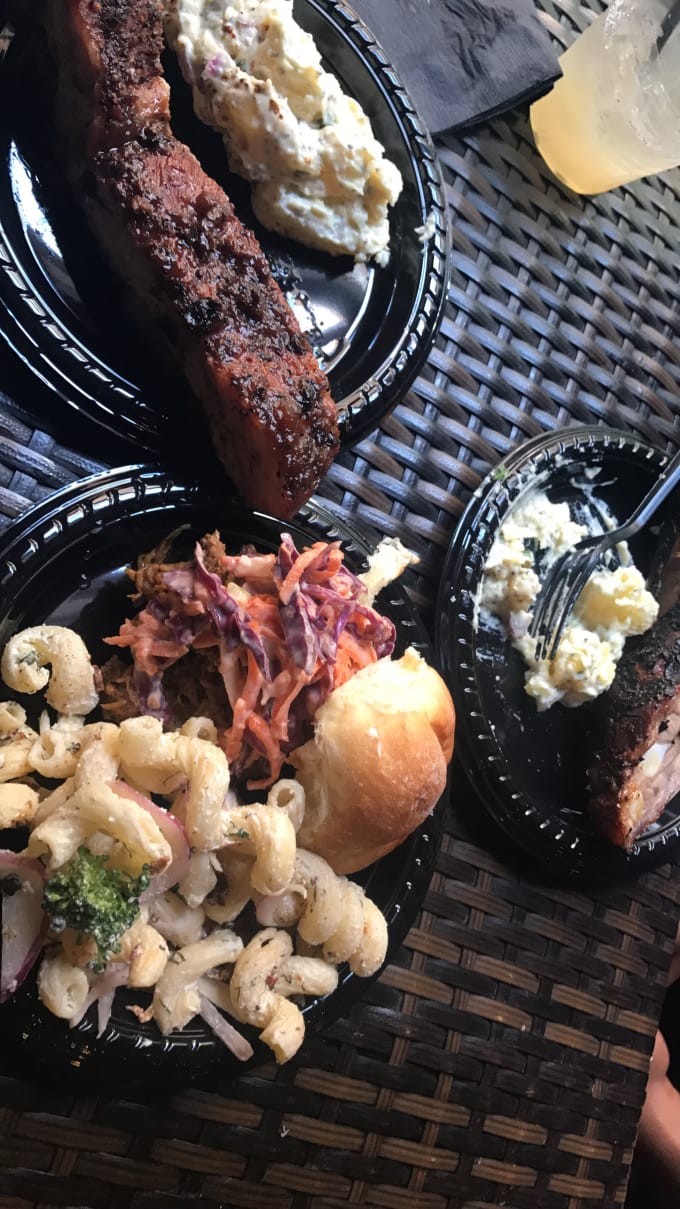 I feel bad for anyone that was near me, witnessing me absolutely massacre these plates but don't blame me, blame the chefs. Everything was prepared perfectly and had me doing that head nod people do when their eating something good even though no one was talking to them. The pulled pork sandwich paired with the homemade slaw on top of it was nothing short of heavenly and the apple-wood smoked spare ribs were superb. The meat was so tender and came right off the bone. The pulled pork was served on a Parker House Roll with 25P Weiss White BBQ Sauce. Perfecto! I know some people could care less about sides when it comes to BBQs or their meals in general, but me I'm a huge sides guy. The macaroni salad was wonderful, and my guy Tyler's (Milkboy Chestnut) potato salad was sensational. You could really taste the love in everything that was consumed, seriously my hats go off to all the Milkboy chefs… you guys outdid yourselves.
The event was very dope, the whole atmosphere had a chill vibe. The live music, unique art, awesome people, local beers and excellent grub made this one of the better events I attended this summer. You can bet your ass you'll catch me at any other food-related or other event that Milkboy decides to throw.
Mo Going In on the Pigstrami Sandwich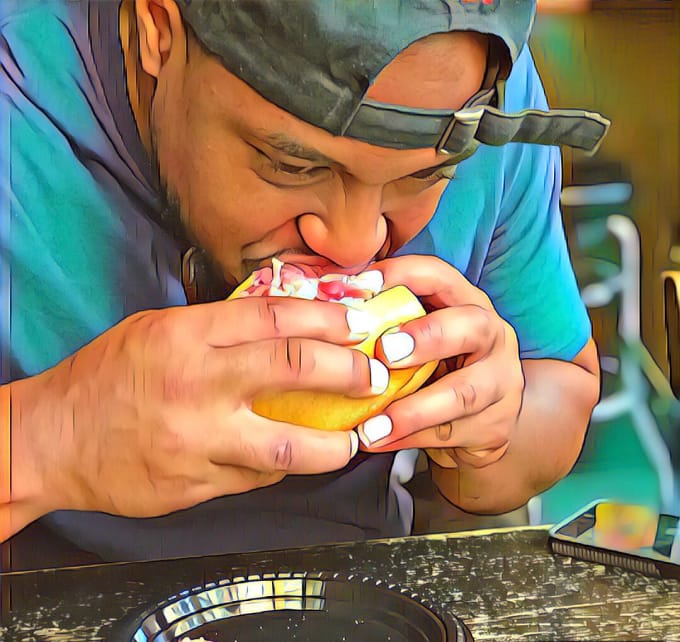 Mo: Well at this point I guess it's safe to BBQ and I are as synonymous as Trump & Putin. So why should this review be an exception? This weekend Team Grub made its way out to 11th & Chestnut to MilkBoy Philly for Art-B-Que 2. This was a clever mix of artisan crafted BBQ and eclectic pieces of art from local independent artists. Mix all of that together and you have an evening of aesthetically perfect ambiance of music (Thee Idea Men fucking killed it), eye candy, and a taste from some of the best BBQ spots in the City. The first vendor we ran into was none other than Tom Bera from Philly Blind Pig. The only thing that may be better than Toms BBQ is his personality. We were given a corned pig Rueben sandwich, yes you heard me right, Corned Pig! The meat was brined generously and smoked then served with kraut, Russian dressing, and an extremely delicious bakery roll. This combination didn't last more than five minutes in front of me and went perfectly with my signature Arnold Palmer cocktail.
The Man, The Myth, The BBQ Legend Tom Bera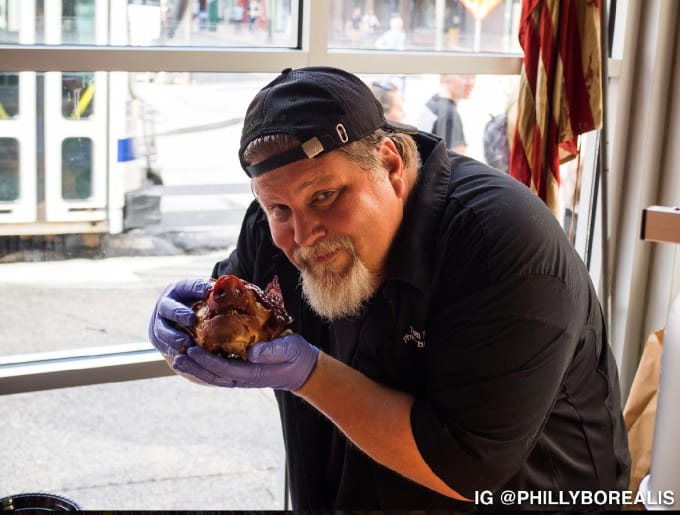 Next up was the homie Tyler from MilkBoy Philly. The Executive Head Chef Chris Beyer, line cook Tyler and the rest of the team served up some amazingly delicious, tender, smoke filled, tangy sauce drippin' bomb ass ribs. The cool refreshing potato salad was more than welcome as well. These ribs were some smack your mama straight outta Bro Bro Brothers BBQ good. I unapologetically went for a second helping and made my way over to Milk Boy South St. for a delicious pulled pork sandwich topped with slaw and a side of pasta salad. All of which went perfectly with all the shots and beers that were going around as more fellow Grubbers begin to arrive after seeing Lauren and I obsessively Snapchattin every BBQ plate we ran through.
The Perfect Combination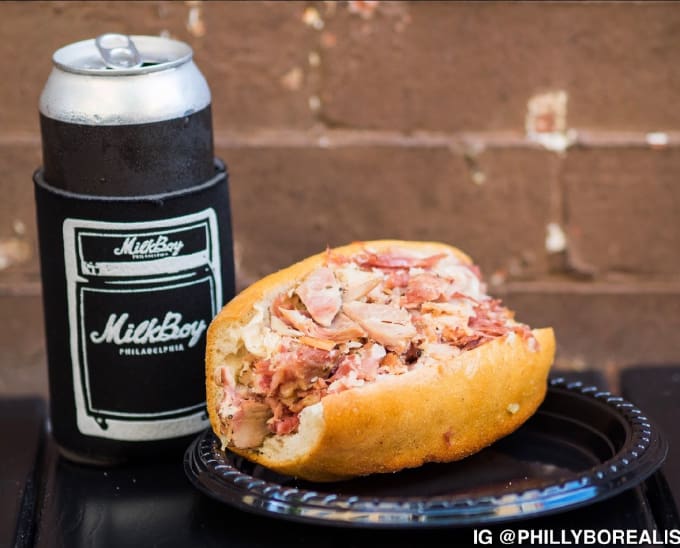 The air began to feel electric so I made my way downstairs to the outside area for some house made BBQ wings from Smokin' Betty's. These wings were nicely smoked with slightly sweet yet definitely spicier sauce and a side of perfectly flavored cole slaw, extra runny as they should be. I felt like I was thrown into a whirlwind of everything ratchet all the BBQ and liquor I could ever imagine yet I was surrounded by all hipsters. Three shots Three beers and One cocktail later I find myself staring down the barrel of a loaded gun.
Our Type of Sunday Funday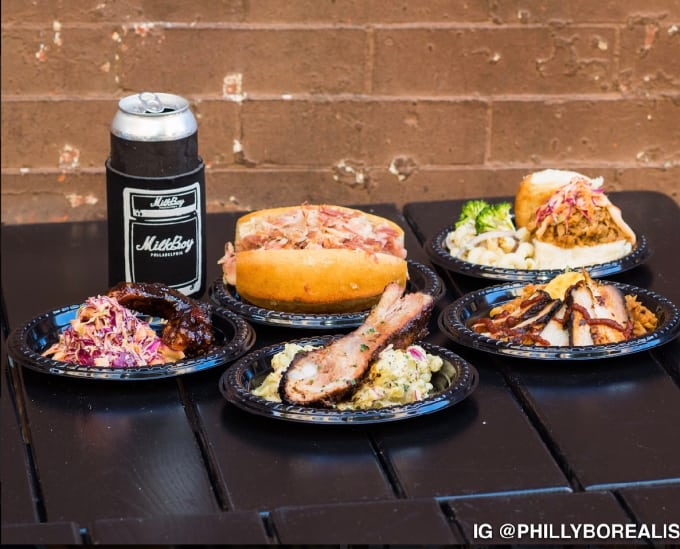 I'm completely full but there is one vendor left. Milk Boy ArtHouse, which is their Maryland location. Fellow Grubber Wayne ordered a plate of smoked pork belly with grit soufflé cakes. It looked so delicious, and with no fucks given I just ate directly of off Wayne's plate. I've never had smoked pork belly and I'm glad the first time I did it was from here because I truly got caught up in the moment. From first bite, the delicately smoked meat and melt in your mouth fat combined with their signature sauce was the perfect culmination of the gambit of BBQ that was thrown at me.
All in all the event was the best kind of low key Sunday. Nothing over the top and in no way underwhelming it was that perfect medium we all search for before starting up a work week.
Smoked Pork Belly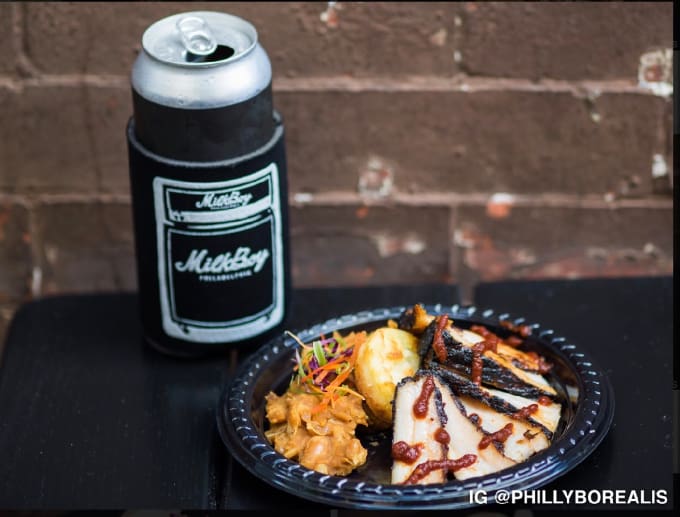 The Award Winning Philly Blind Pig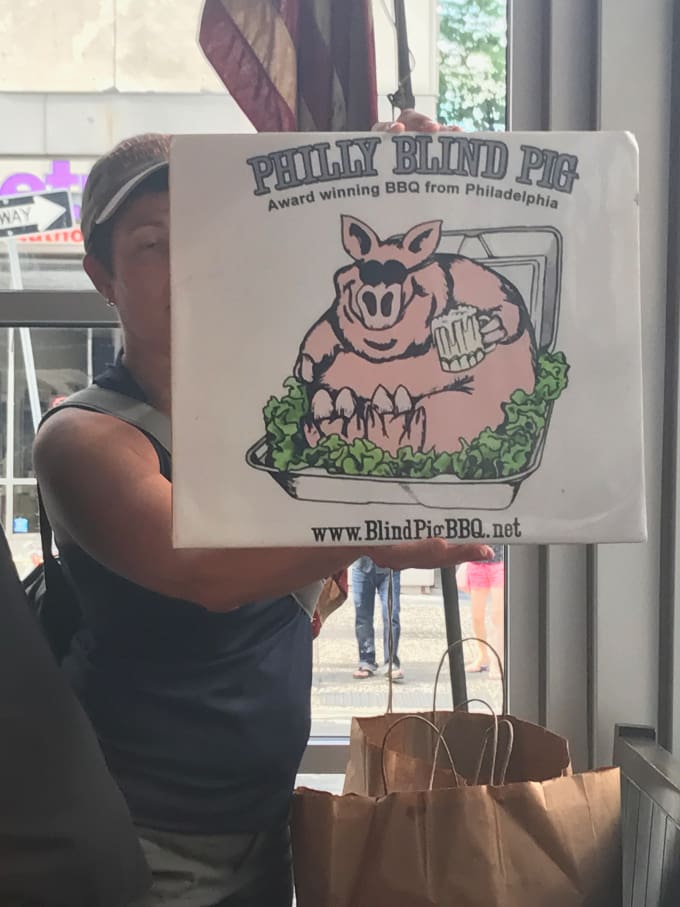 Art-B-Que 2 at Milkboy in Philly
BBQ, Music, Beer, and Art… not a bad way to spend a Sunday in the city.