Feast.Media – **MK is part of the JG blogging team. She recently relocated from New Jersey to Colorado. Her roommate recently had a hilarious response to a rude Pizza franchise owner  **
So we recently moved to Denver and the property management group we went through was nice enough to give us coupons to a couple of local dining establishments since we're broke millennials. One of those coupons was for two free one topping pizzas from this pizza franchise called "Papa Murphys". The coupon as seen below has no address or a legible manager name on it, the signature is literally just a weird squiggle.
WTF is that?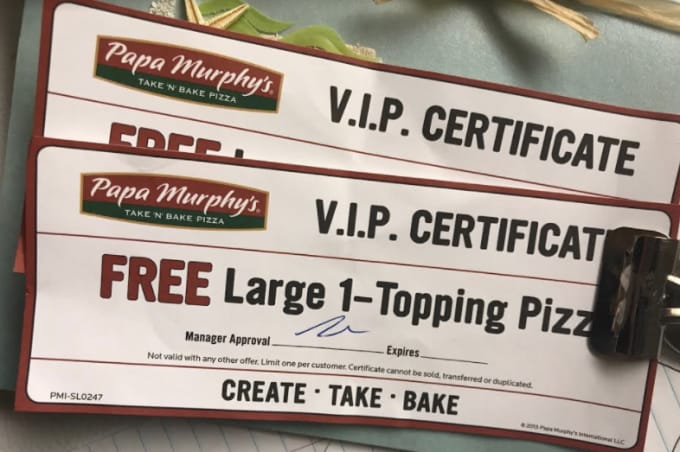 So when my roommate Brianna went to use them at a local Papa Murphys because when do you ever need a reason to indulge in a beautiful thing like free fucking pizza? She was turned away and told, "That's not the managers signature". At a loss, Bri tried reaching out to the property management group to try to get the address to where they came from so she could at least get the proper managers name but she had no luck. Since none of us are fluent in squiggle and there doesn't seem to be an app for this ( I want royalties for whoever's reading this makes this brilliant idea happen) Bri proceeded to go back to the same Papa Murphys she went to before to find the manager for some help. Well the manager, Karen, ended up reaching out to us however instead of being kind or even just a little helpful she was kind of rude. At this point Bri was not having it and what ensued was nothing short of magnificent:
---
Karen's email to Bri trying to solve the squiggle mystery.
Hi Brianna,
I'm the owner of the Papa Murphy's you visited Wednesday night and tried to use a coupon for a free pizza. Yes, my crew was correct explaining to you that we cannot honor that specific coupon. I know you have tried to use these coupons a couple of times in my store. You also mentioned that other stores have told you the same.
That particular coupon is used when a new store is doing a "soft opening". The employees of the new store are generally given 10-15 coupons each and are told to give them to family and friends so the store can have a practice night before they actually open to the public. As you can imagine, it is a VERY expensive night for any of us who have opened a new store. I myself have never used these coupons beyond my "soft opening" night. That being said, you may not be aware that nearly all franchises are privately owned by separate individuals.
I'm sorry that this has frustrated you, but would encourage you to go back to the store that gave it to you. My crew all have said they've suggested this and that your story is they came from your apartment. I too have a "move in" special coupon for the apartments adjacent to my store, and they clearly state the address where the coupon is honored. I suggest you ask your apartment management people where they came from.
I hope you're able to locate the source of your coupons.
Karen 
---
Bri's magical response
Karen,
I have only tried to use the coupons twice in your location. I thought perhaps I had been misinformed the first time. I have not tried to redeem the coupon at any other location, but I have tried to narrow down the search for the correct hand that bestowed the rightful signature unlocking my coupons. I have achieved no such luck and so I am back at the source as yours is the store that awarded me the advice in the first place.
I have been a part of many "soft openings". Yes, it is a great trial run for business. It is also a great platform to generate a respectable foundation for that business whilst building good rapport with the community. It is an opportunity to showcase your hospitality. I do not doubt that your franchised pizza shop is not the one I am looking for but I was merely hoping for an act of good hospitality.
I have asked the management company for the specific location of the Papa Murphy's but alas, I have come up dry as it is a preposterous question when all you have to go on is a squiggle for a signature and no address. I can assure you there is no address. If there had been we wouldn't be having this conversation and I would be enjoying some pizza.
That being said, I only wanted to redeem two free 1-topping pizza coupons. If you break it down doesn't it seem a trivial request by means of overhead cost and general labor? Your team enlightened me on the "trouble" they have accepted in the past over redeeming such coupons. You must have instilled the fear of God in them and it is working so continue to rain down pizza parades for as long as you live. I won't expect a reply, just as you should not expect any business from me or my lineage, but what do you care? You are the owner that doesn't need to give out coupons on the soft openings. It appears to be fairing well for you.
Thank you for the quick response and for all of your consideration.
Best,
Brianna
---
And that my friends, is how you properly and elegantly flame a rude pizza franchise owner. The moral of the story here, don't rain on these girl's pizza parades. We may be tiny but when provoked we absolutely will make you feel our wrath.