Mo covered Long Beach International Film Festival's premiere event.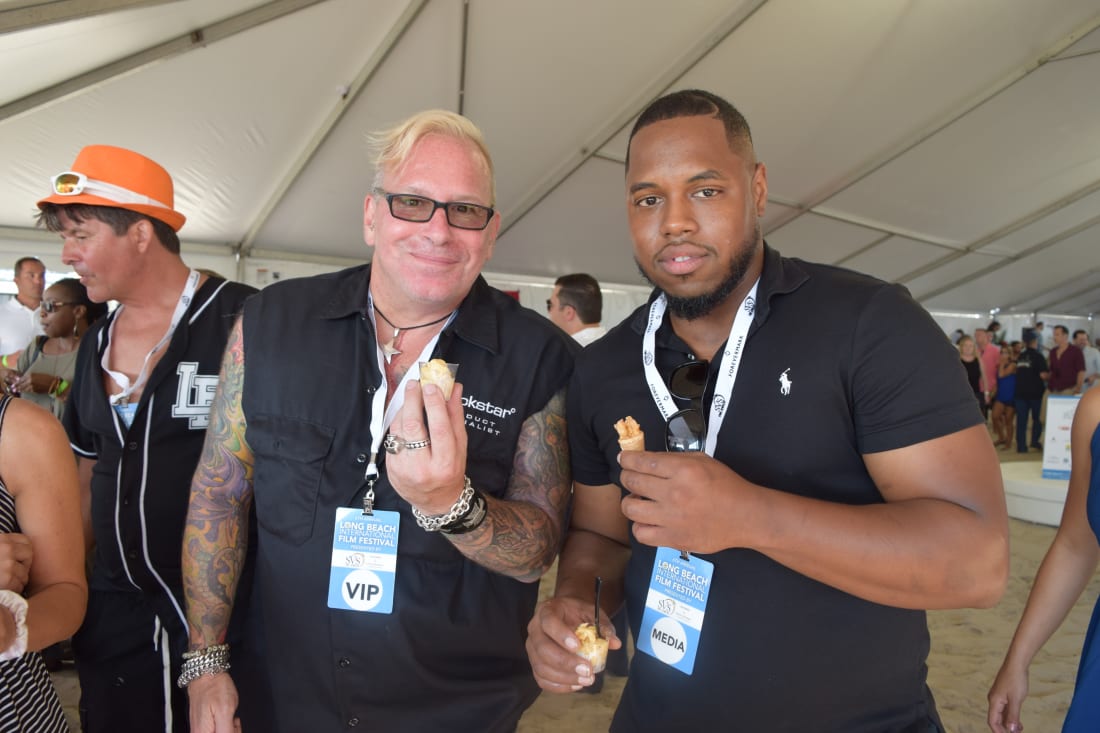 **Mo Hall is part of the JG blogging team and here's his coverage of the Long Beach Film Festival's main event; Taste On The Beach that took place August 4th at the Allegria Hotel in Long Beach, NY.**
Eat a bit, a little bit, pour it up take a sip, feeling lit feeling like, 6 o'clock summer night. This is my pursuit of happiness where, LBIFF co-founder Craig Weintraub and friends, turned a block of beach and boardwalk of West Broadway in Long Beach into something straight out of The Hamptons. #Teamgrub arrived about 30 minutes early after a two hour commute and were welcomed with open arms, as well as a head start to sample many of the vendors before the crowd arrived.
What more can you ask for?
Chicken and Waffles from Parlay Gastropub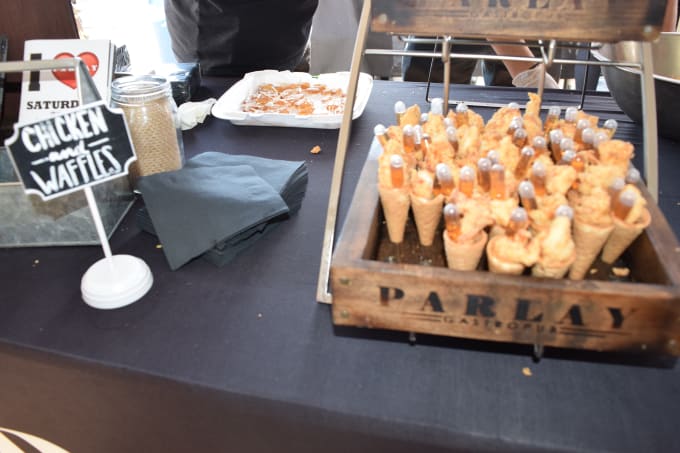 Our first stop, naturally, was the chicken and waffles that were given to us by Parlay Gastropub out of Rockville Centre. They featured a mini version of the dish with miniature sugar cones replete with perfectly flavored fried chicken breast and a syringe of maple syrup. If this wasn't enough soul in a cone, they also gave us a sample of three cheese macaroni & cheese. This was the type of shit that would make Patti Labelle smile. A chicken and waffle dished served up with elegance. Our next stop, coincidentally, put us in front of ribs served up by Spuntino Wine Bar & Italian Tapas. This Garden City wine bar caught me completely off guard with their fall of the bone tender pork ribs slathered with a beautiful balsamic BBQ sauce. Between rubbing shoulders with the upper crust of Long Beach and all the chicken, ribs, and alcohol I could handle, I was getting into that rare Latrell Spencer air.
We made a stop at the Tito's Vodka vendor for a quick sangria that combined their homemade vodka, triple sec, argo and hibiscus tea. This smooth blend helped me make room for Roslyn, NY's very own 388 Restaurant. They provided my Italian fix with boneless chicken and scarp pasta in a lovely alla vodka sauce. I somehow found my way to the next vendor by a recommendation I received from a couple we befriended in line for 388's samples. This was probably the best piece of advice we could have gotten because it brought us to two of the best taste and textural bites of the night. First up was LB Social right off of W Park Ave. They offered up some thick cut candy bacon with fig, watercress, and a fig and balsamic reduction. It was dope AF. All notes were hit pitch perfect and that's word to Mariah.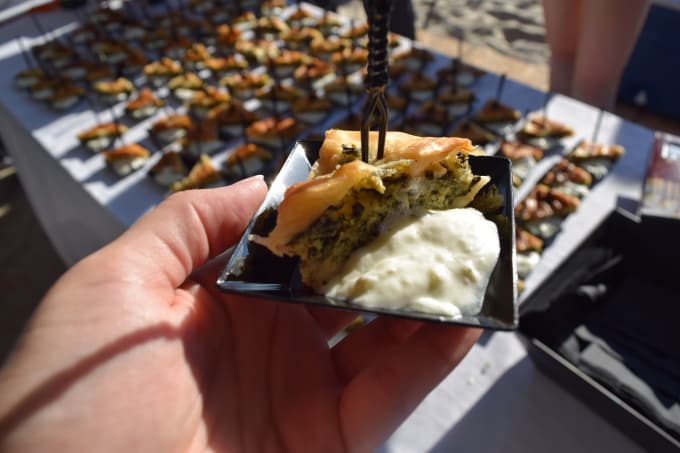 The Surf Room located in the Long Beach Hotel had that not so easy task of following up LB Social, and not only did they do that, but I would go as far as saying they were the showstoppers of the night. The braised short ribs slow cooked in a port wine demi, topped with tomato jam, drizzled with horseradish creme and served on top of a potato and parsnip purée left me speechless.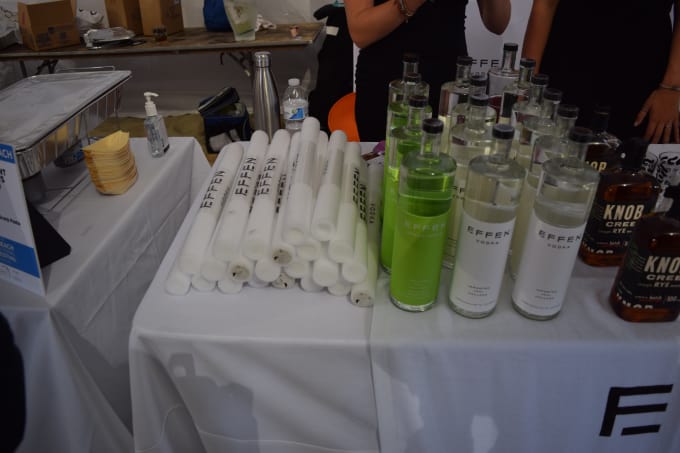 I was left wondering whether or not I was teleported to the Hogwarts School kitchen because there was powerful wizardry at play with the perfect chemistry of flavors I was experiencing. I doubt Harry was back there whippin' in the kitchen, but I wouldn't have been shocked if it was Daniel Radcliffe handing me that biodegradable tasting spoon. It was about two hours into the event and the crowd was getting thicker than a Luke dancer. The lines were becoming longer and the libations were starting to show themselves. Yes, ladies and gentlemen, we had a serious situation on our hands.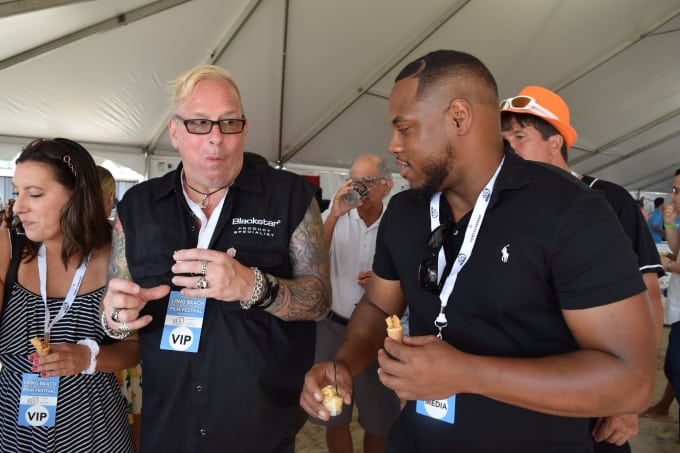 Unfortunately, I was looking at a two hour plus drive back home so I had to responsibly somewhat cut myself off. A quick stop at the Greenport Brewery for a double fisting of their crisp Tidal Lager and one last food stop at Mesita authentic Mexican cuisine, another solid Rockville Centre eatery, for some lightly fried fish tacos and chips with gauc concluded the whirlwind tour of some of the best establishments Long Beach has to offer. I was able to catch up with Marina Watts on our way out and had to thank her again for extending us this invitation. I will definitely be anxiously awaiting her next event because off the strength of #lbiff17, I must say her beach is better.