We attended the Celebration of Grub on August 10th.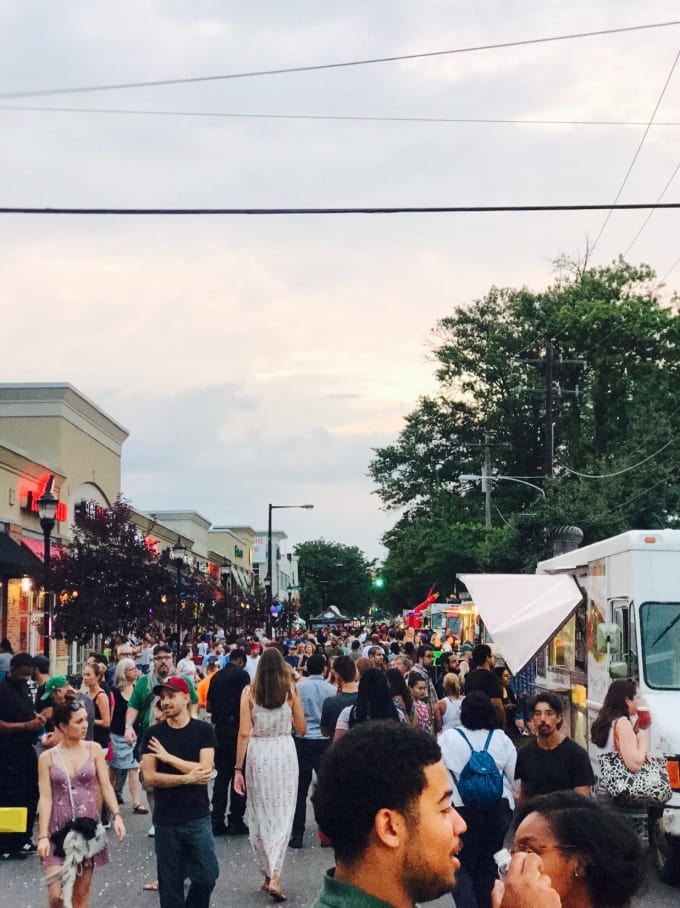 ---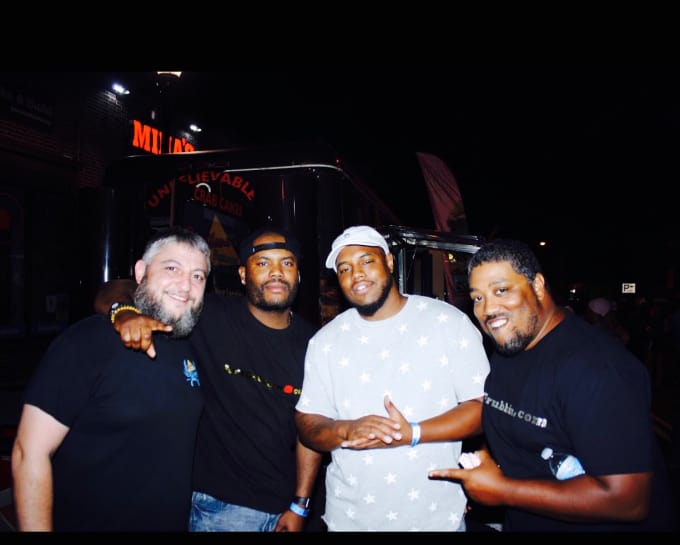 "Ooooo anything can happen at the Night Show, Ooooo Your b!+$% not at home, she at the Night Show"
The good folks at The Food Trust sure did put on a Night Show, which drew such a huge crowd, that if you weren't there, your girl probably was. Night Market Philadelphia was set up in the perfect city meets small town setting. Roxborough is a small neighborhood just northwest of Manayunk. Food trucks dotted up and down Ridge Ave. from Monastery up to Fountain St. Roxborough came alive and transformed an ordinary Thursday into a #turndownforwhatday. Vendors, vendors, vendors as far as the eyes can see. Some Rigatonis over here, a little Meatwagon over there, add in some delicious craft beers and love and happiness were in the air. No matter what you were in the mood for, Night Market was there with something to offer. Whether it be chicken & waffles from Foolish Waffles, waffle cones from Zsa's, dumplings from Dump n Roll or gourmet fries from Philly Fry, you were sure to find something from one of the sixty plus vendors to appease you. The first vendor we stumbled upon was Chewy's. We ordered a smoked pulled pork sandwich and a side of mac & cheese. The pork was nicely complimented with a jalapeño apple fennel slaw and the Carolina BBQ sauce was a nice touch. The mac combined gruyere and cheddar cheeses but missed the mark by a little and was just ok. We kept the BBQ train going with Meatwagon a delicious cornucopia of smoked meats, ribs, mac, and potato salad but I'll let Jamiel take you further into that. I only say that, because I want to take the time to spotlight Foolish Waffles for being spot on with a concept I actually thought about pursuing myself. A chicken & waffle food truck, nothing bestills my heart more than the idea of the various ways you can attack this dish, and from the satisfaction I witnessed on their customers' faces I'm pretty sure they nailed them all. I mean cmon a Bahn Mi waffle or a strawberry Nutella sugar waffle are just one of the many variations but since it was my first time I kept it 💯 and went with their version of the original. Their rendition was a beautiful play on the dish with chili honey glaze, slaw, and bourbon pickled jalapeños blanketing tender buttermilk fried chicken. All this deliciousness laying on top of a mf'n sexy light crispy waffle. A little syrup a few squirts of Sriracha and I was upset I didn't purchase two because I really did not want to share this with the rest of #teamgrub. This was a thing of beauty that everyone should experience at least one time in their lives so I put my selfish ways aside and let everybody dig in. As the evening drew to a close and the live Michael Jackson covers began to fade all I was left thinking was yea… It's Lit… at the Night Show.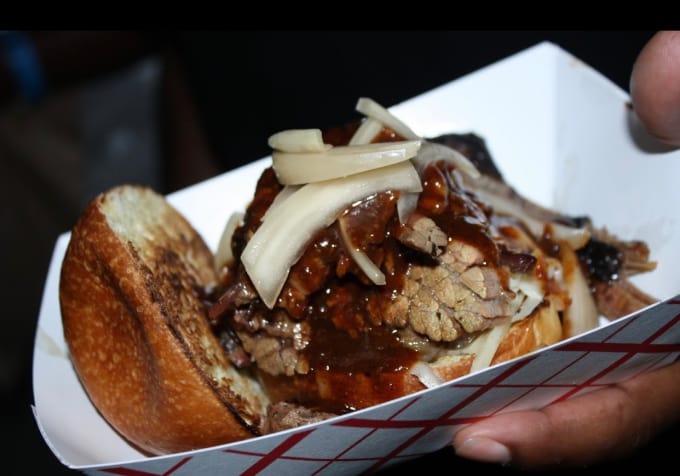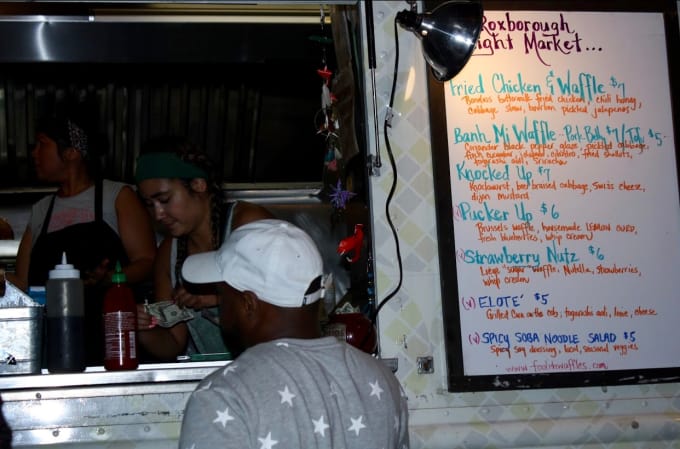 Roxborough Night Market
---
Jamiel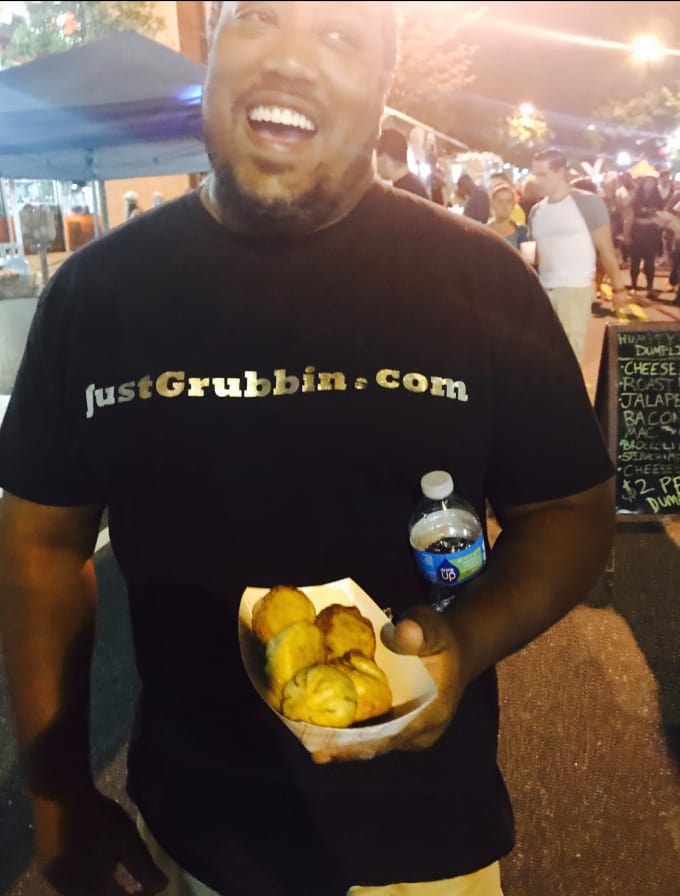 The JustGrubbin team checked out the Philly Night Market and I really can't say enough about all the great grub we got to taste.
So this event is basically food truck heaven and I'm gonna tell you right now that the next one is October 5th at the Italian Market. I'll be there, believe it.
First thing I saw when I walked up was Khmer Sweet Basil with their assortment of meats on a stick. We tried the chicken and shrimp because they looked delicious and they were. Smoky, slightly sweet, perfectly cooked. Every bite was a pleasure.
Then we walked a couple trucks down and got realllll buttery with Li Ping Corn Co. Roasted hot, sweet corn. Scrumptious! Kinda made me want to become a permanent corn eater. It was that good! I'll never understand why we can't drench everything in butter. Life is short, YOLO, ya know?
Anyone who knows me knows I don't really mess with feta cheese, however, I tried the spanakopita from Authentik Byrek and was pleasantly surprised. Buttery crust, fresh spinach and a not overwhelming amount of feta led me to a rather pleasant curbside dining experience.
After that, we got to the real meat of the matter with Meat Wagon BBQ. We ordered the full sampler and basically tried everything on the menu. Goood Lordttt. Usually, when we're tasting at an event for the site, we try to control ourselves and limit our portions. Now, I don't know if this has ever happened to y'all but sometimes when you're trying just right BBQ all that control stuff goes by the wayside and you just gotta dig in. This was one of those times. Ooooooweeeeeeeee. Could. Not. Put. The fork. Down. Chicken, brisket, pulled pork. All slammin'! All their sauces were on point, and they let you add sauce yourself, so no risk of undersauced meats. However! Listen! This BBQ didn't need ANY sauce. Straight delicious. I can't even explain it. And the ribs! Fall off the bone tender, extremely tasty. They actually made me take a step back and make sure I was eating what I thought I was eating. They're definitely being added to my list of trucks to seek out.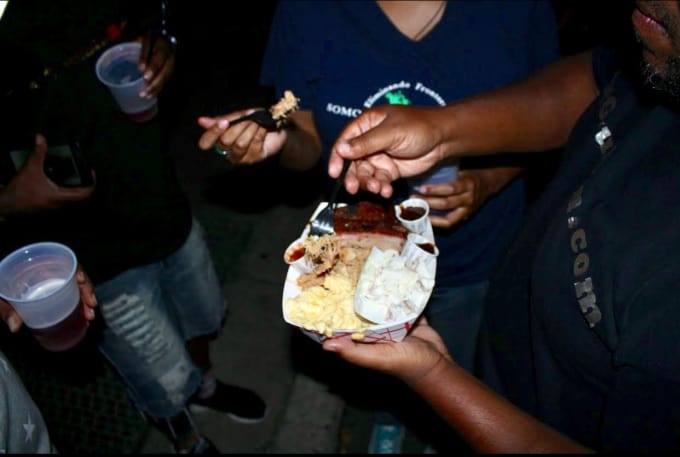 Of course, we made sure to check out our old favorites as well. Dump n' Roll had a new Pad Thai spring roll that was like nothing I've ever tried. Pad Thai is one of my favorite meals and Peter Tong managed to squeeze all the flavor into an itty bitty fried package. Slammin!
Rigatoni's Mobile Crab Cakes had a well-deserved line around the block, probably making all the nearby trucks jealous. I was short on time so couldn't do the wait, but I longingly looked over a lucky woman's shoulder who had acquired one and dreamed of days with shorter lines, when I had a crab cake all to myself.
Of course finally, I had to get my grubby little paws on a nacho meatball from Mama's Meatballs. Still cheesy, meaty goodness.
Damn I love this job.