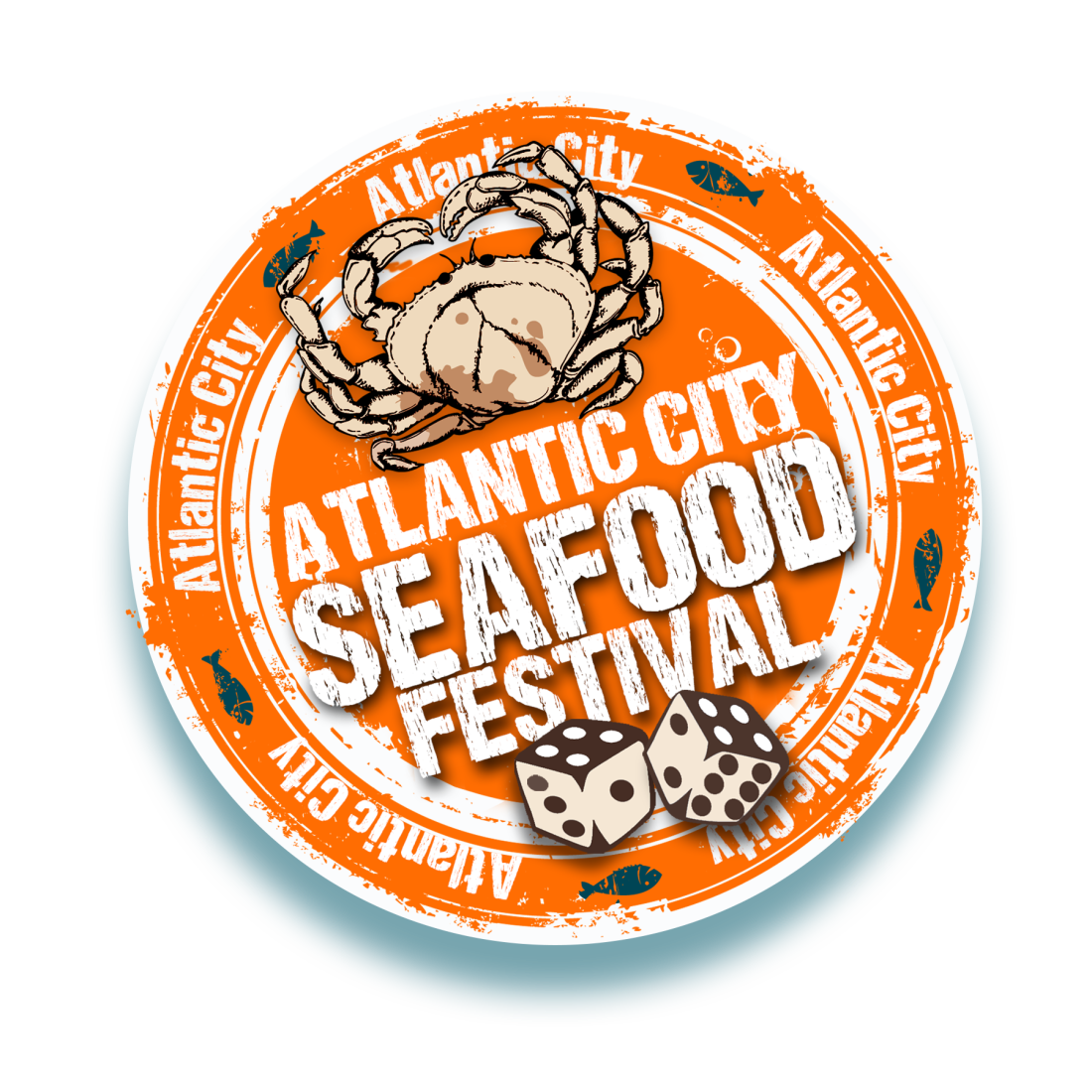 **(Screams into a microphone) One more time for the people in the back, we said it before and we'll say it again, any festival or celebration of food… the JG team will be in attendance covering the festivities. Mo and Lauren attended this year's seafood festival, here's Mo's recap.**
Fish, Don't Kill My Vibe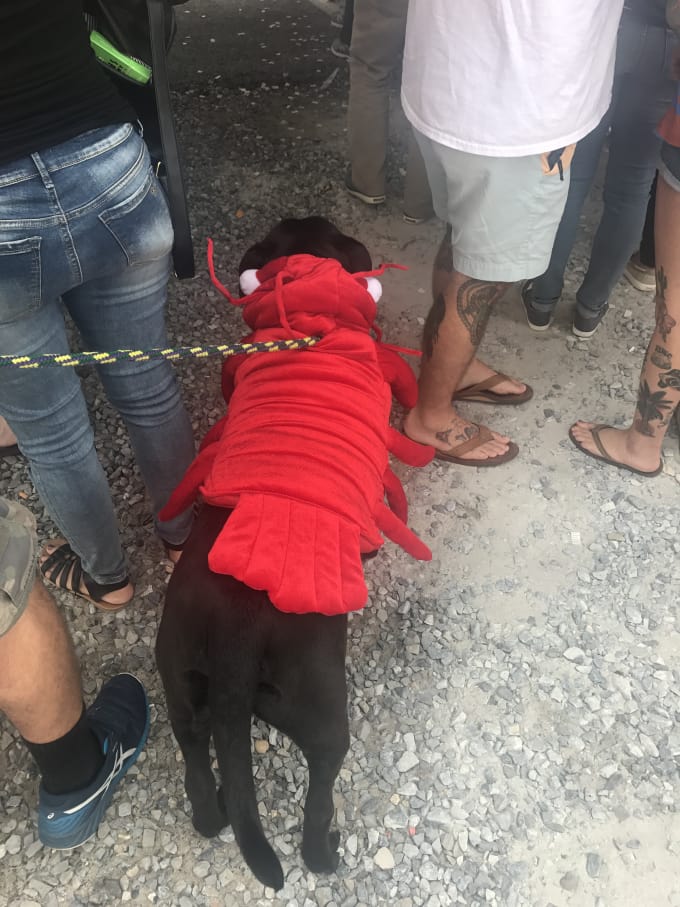 Another weekend, another festival, and best believe #teamgrub was front and center. This weeks' "lituation" was the Atlantic City Seafood Festival. This much anticipated event dropped anchor right in the parking lot of the Showboat Hotel. From the outside looking in you couldn't help but notice an amazing collective of vendors that were set up; which did nothing to pacify our anxiousness.
As soon as we entered the gates we were greeted by our awesome host Stacy McCaron (shoutout to Stacy!) and then immediately ushered by one of Ruth Christ's lovely representatives to their stand. After much debate we were convinced, not that I needed much convincing, that the seared ahi tuna was the way to go. It was perfectly seasoned and seared with a spirited mustard and beer sauce. The tuna was amazingly delicious, and the pickled cucumber was the perfect accompaniment for this dish. As you can see we were off to a great start for this event.
Mo with the Lovely Ruth Chris Rep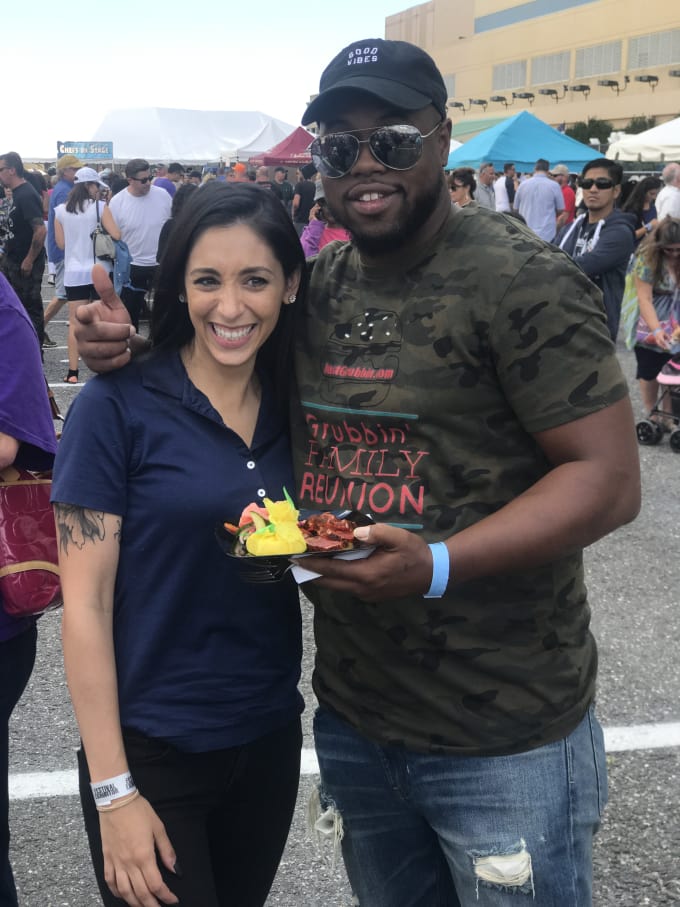 Seared Ahi Tuna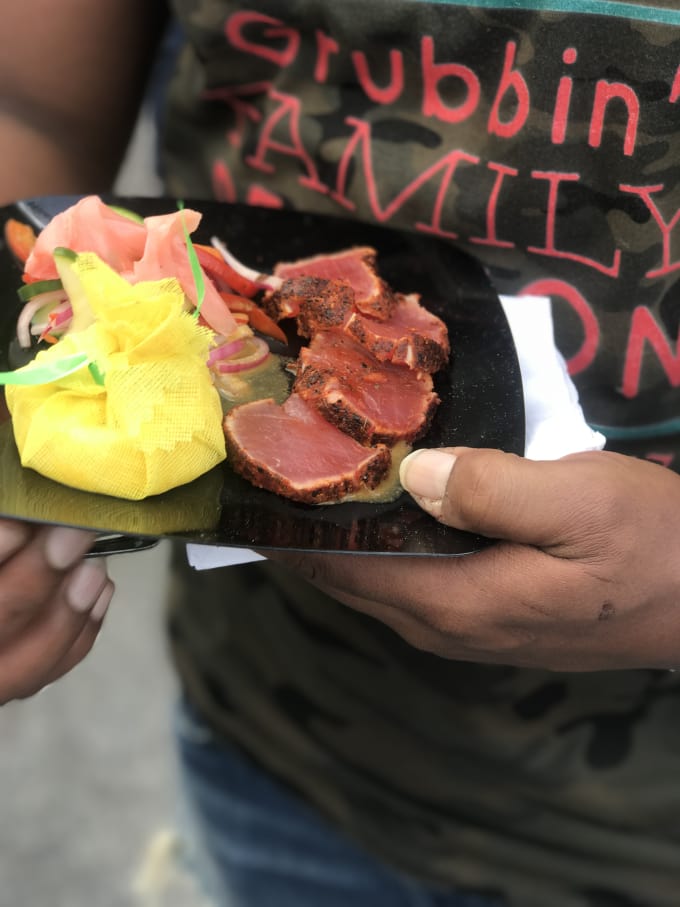 Onto the next, on, on to the next. Chart House was next up for the Just Grub treatment. The shrimp tacos and lobster mac & cheese stood out the most to us, and we definitely made the right decision. Disclaimer: I fucking love shrimp tacos!!! Luckily for me, Chart House did not disappoint. Served with an Asian slaw and Sriracha aoli, which in my opinion, is always the right answer/ingredient for a masterful shrimp taco. Their lobster mac was pretty spot on. It was creamy, lobster was ever present (nothing can ruin a lobster or crab mac than restaurants that get stingy with the meat), and you could just slightly get a taste of the truffle oil. Very well done!
Chart House
Lobster Mac & Shrimp Tacos
Star of the Seafood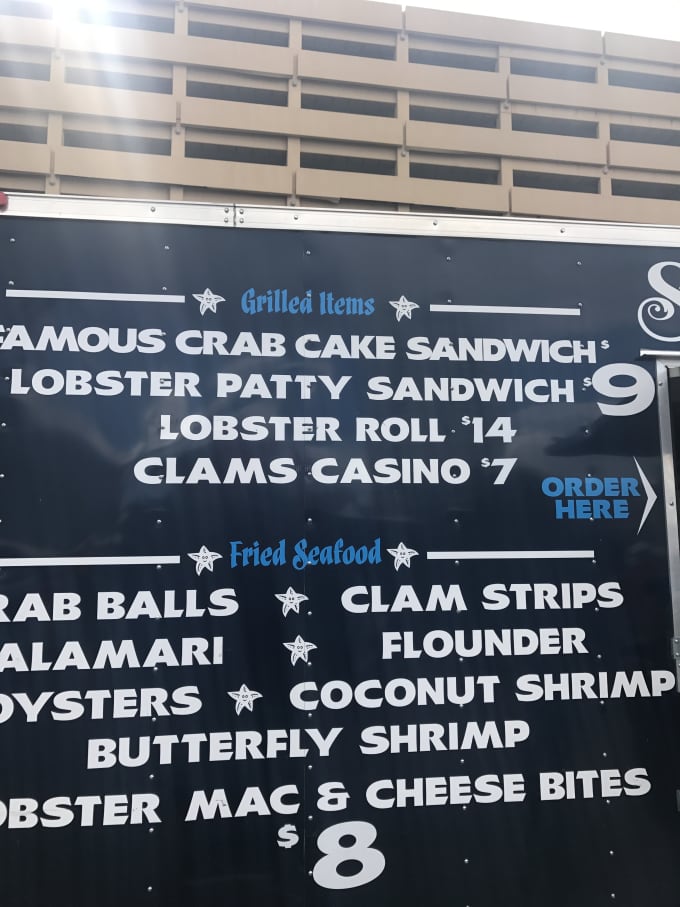 Star of the Seafood was the next one spotted in our crosshairs and they were the next obvious target because we both love crab cakes, and they were the only crab cake vendor we could find. I ordered the crab cake sandwich. Hmmmmmm? Well let's just say they were no Rigatonis, honestly… they were pretty average. Just your basic crab cake on a Stroehmans' hamburger roll and plenty of sauces on the side to choose from. In their defense, it's pretty hard to stand out at a seafood event unless you have a very special product.
Crabcake from Star of the Seafood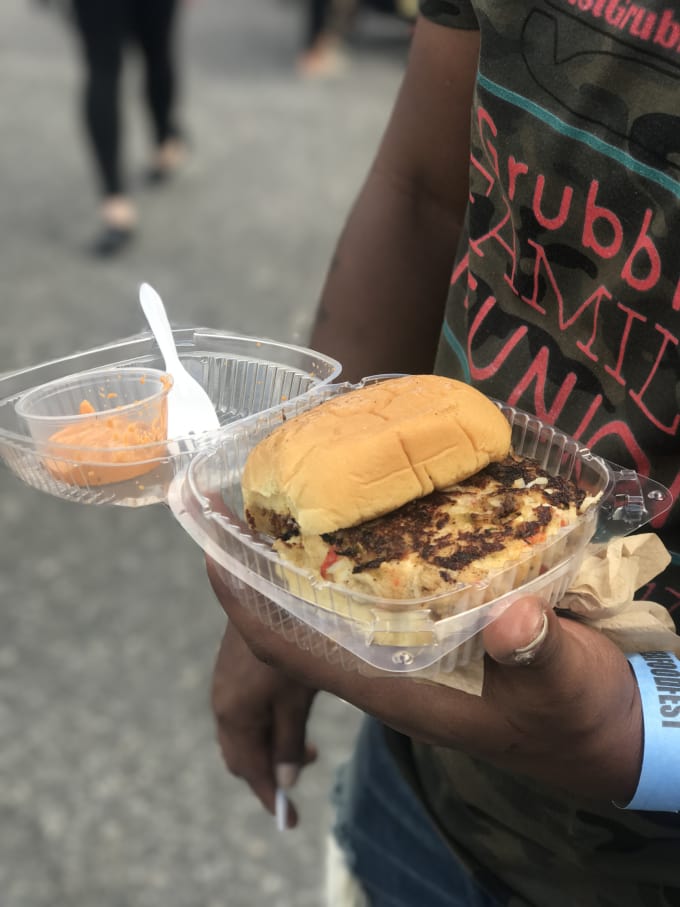 At this point we were starting to fill up and our stomachs started to protrude, but there was still more for us to conquer, so onward to the great beyond. Wandering around the festival aimlessly with itis approaching fast we stumbled onto the Empanada Guy food truck. There was a vast selection of empanadas but with it being a Seafood Fest we stayed true to the cause and got the crab empanada. I think he's actually onto something with this. It was simple and to the point, just crab in a delicious fried dough. Simple ingredients, simple execution, simply mucho sabor!!!!
Crab Stuffed Empanada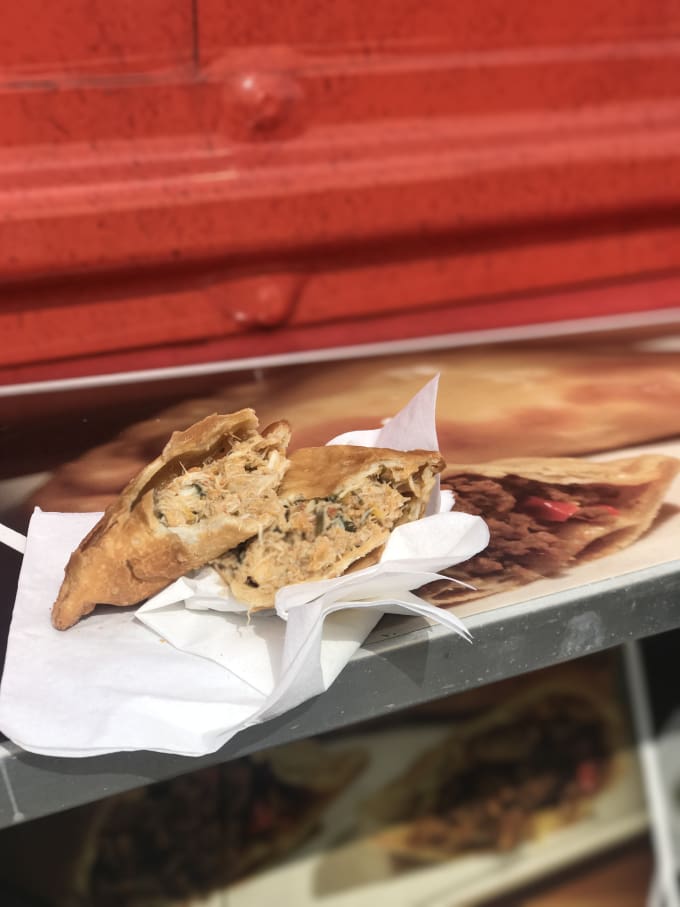 Empanada Guy and Mo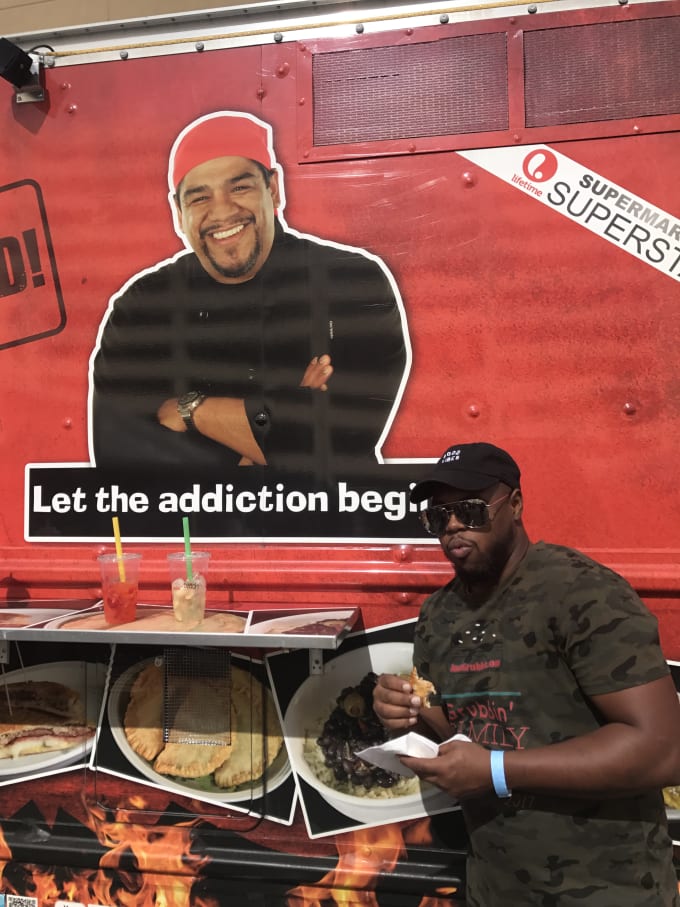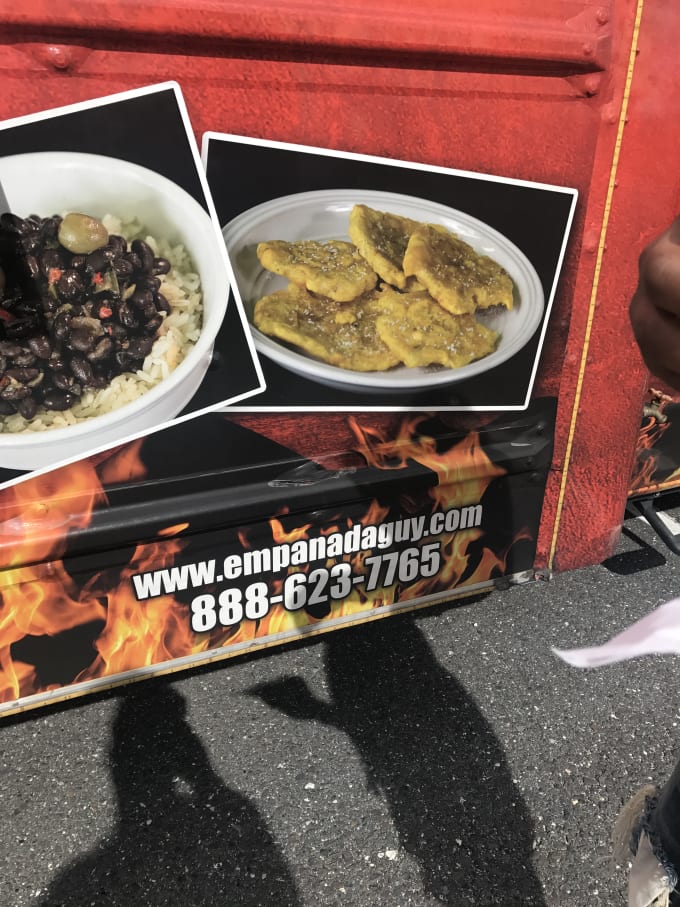 In case you haven't noticed I intend to end every festival the same way, and that's with a bomb ass waffle topped with ice cream. So of course this festival was no different, with that being said Baristas Coffee Express was descended upon with cruel intentions on the mind. I browsed the menu saw bananas foster waffle and I knew immediately… It… Was… Going… Downnnnn. The bananas foster consisted of a light waffle with cinnamon crunch, bananas, vanilla ice cream and rum sauce. Let me tell you this sauce was the boss, no Sweet Baby Rays. Everything came together flawlessly; it was synchronized and poppin like an HBCU dance team. I'm smiling just thinking about it.
Barista's Coffee Express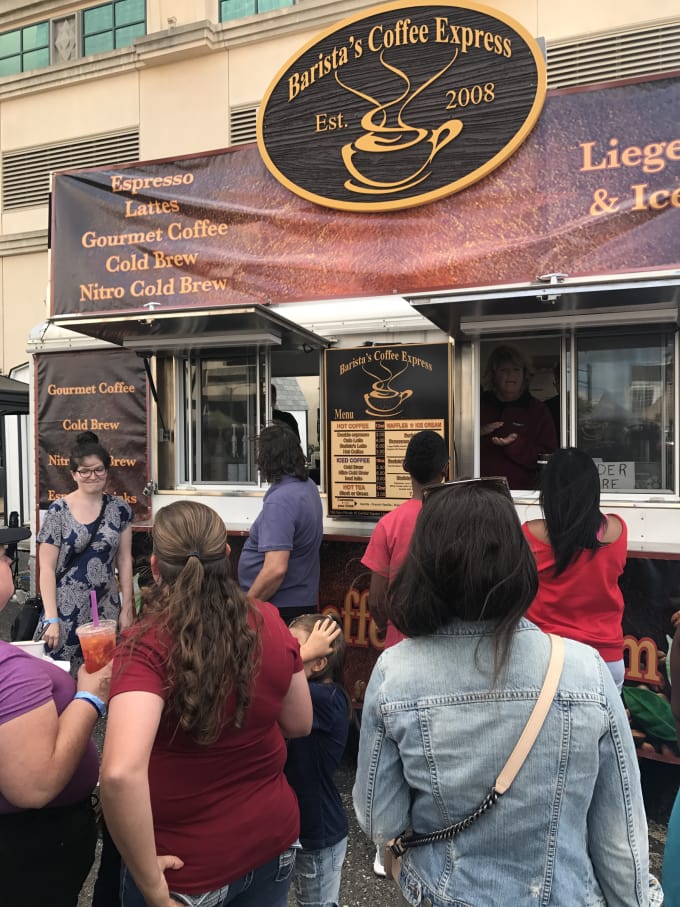 Bananas Foster Waffle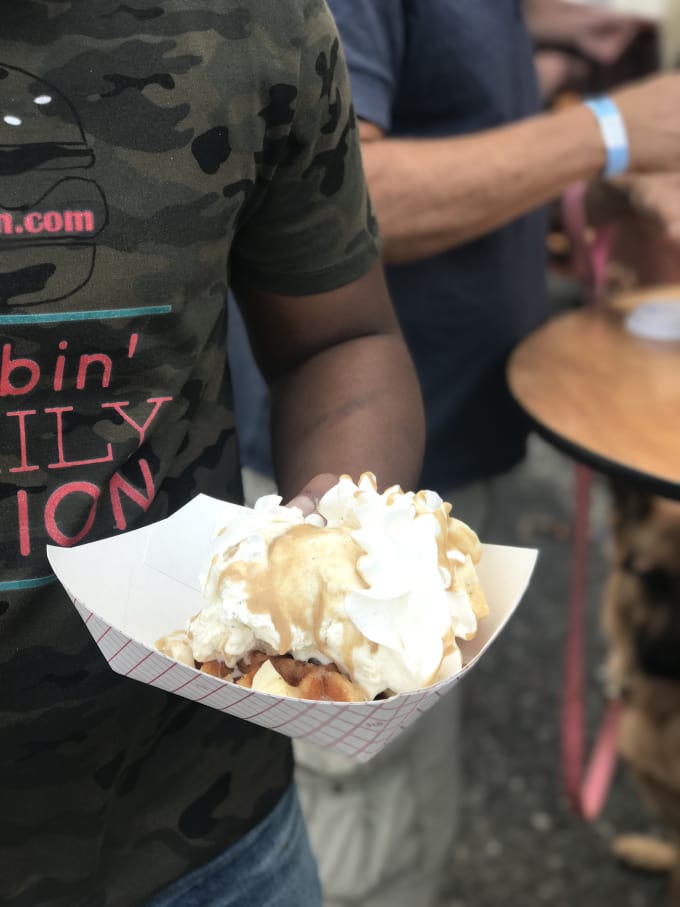 Afterwards we strolled down the famous AC boardwalk and we contemplated whether or not to visit a greasy AC strip club and I couldn't help but reminisce about all the Seafood blessings that were bestowed upon us on this lovely day. I, being a uber shellfish fanatic, must say I was more than satisfied with this event. I'm sure Lauren echoes my sentiments as well. This was another notch we were more than happy to add to our belts, literally and figuratively!
(Editor's note: Lauren 1,000,000% echoes Mo's sentiments.)