Feast.Media – The JG Team covered one of Philadelphia's premiere foodie events.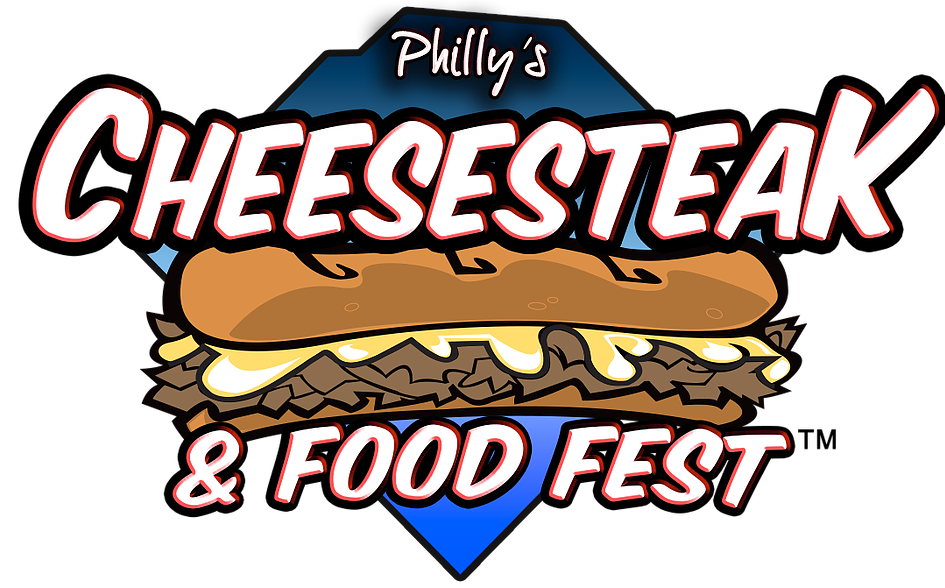 **On September 23rd the JG Blogger Team which consisted of Lauren, Mo, Jamiel, Wayne, and the official photographer of Just Grubbin, Jerry, covered this year's mouthwatering event that took place at Citizens Bank Park. Here's our recap.**
Yes, yes it is.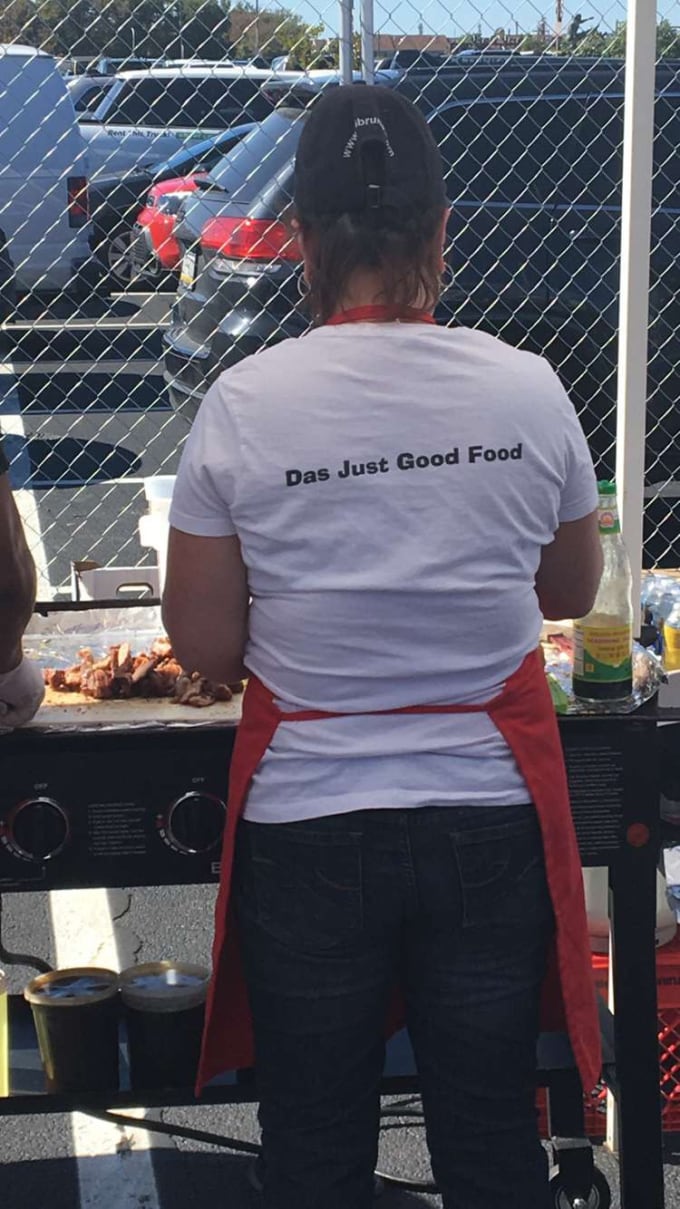 Lauren & Brian Bauman of Original Philadelphia Cheesesteak Company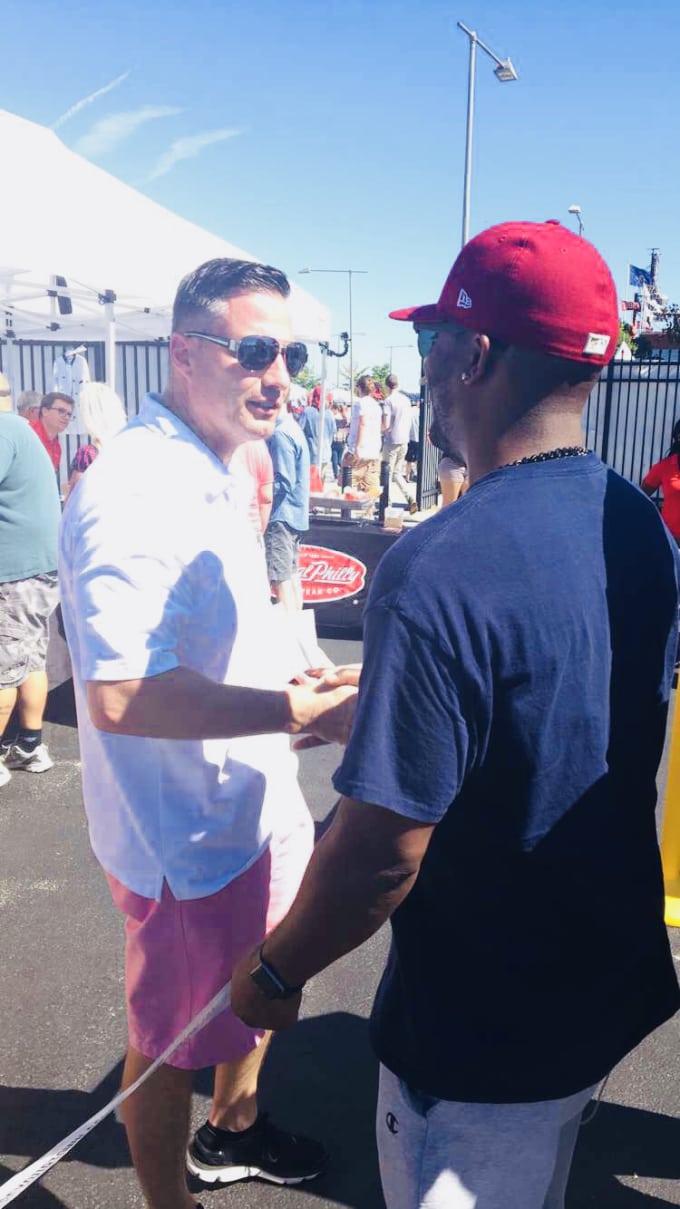 "Oh my god, oh my god… I finally made it onto the field and into the damn dugout of the Phillies! All thanks to Just Grubbin yo."
Lauren: I'll come right out the gate and say this of my favorite events that we've covered since we started this whole foodie quest. With a line full of hungry festival goers starting to form around the block and starting to spill into the street you could just feel the anticipation in the air. Part of the package that came with your ticket was an opportunity to go onto the same ball field that so many of Philadelphia's sport legends graced, which I must say was very very dope. One of the reasons this was great is because Jerry is our diehard Phillies fan and all he kept saying was "Oh my god, oh my god… I finally made it onto the field and into the damn dugout of the Phillies! All thanks to Just Grubbin yo."
Just Grubbin just making dreams come true. I've said all of this and we didn't even get to the food yet… that's how you know it was a spectacular event. There were a lot of standouts at this years event but if I tried them all this would turn into a long ass e-book. My favorite part of attending food festivals is trying new and unique foods and they had all that and then some. My highlights from this year's festival were the cheesesteak egg rolls from Original Philly Cheesesteak Co. (shoutout to Brian), Grub Burger Bar's cheesesteak burger, the pork sliders from Das Good, Gaul & Co. Malt Houses kielbasa cheesesesteak (you read that right… a kielbasa… cheesesteak… phenomenal), the jerk chicken cheesesteak from Grubaholics, and Sinful Taste's take on the classic cheesesteak. After about an hour in, I had to take a seat because the itis was starting to kick in, one of the hazards of the job.
One of the reason's this event stood out from past festivals we've covered, is the atmosphere. Besides having some of the area's best purveyors of delicious meats, which normally would be enough to have me satisfied, they went all out to make sure everyone was entertained. This year they had a full stage with live entertainment including a live performance of the "Philly Cheesesteak Anthem" by Tony Luke himself, live podcasts, a beer garden, plenty of tables to take a seat when the inevitable meat sweats start to kick in, games and a play area for the tiny foodies, a giant cheesesteak mascot that roamed around all day posing for photos and dancing, and the main event; the cheesesteak eating competition. Shoutout to Molly Schuyler who ate 9.5 10 inch cheesesteaks in 10 minutes, it was definitely a sight to behold.
I think I can confidently speak for the rest of the JG team that attended this year's event with me when I say I can't wait to cover the next event they decide to throw and of course we'll have it covered for you.
Going Over Our Gameplan in the Dugout of Citizens Bank Park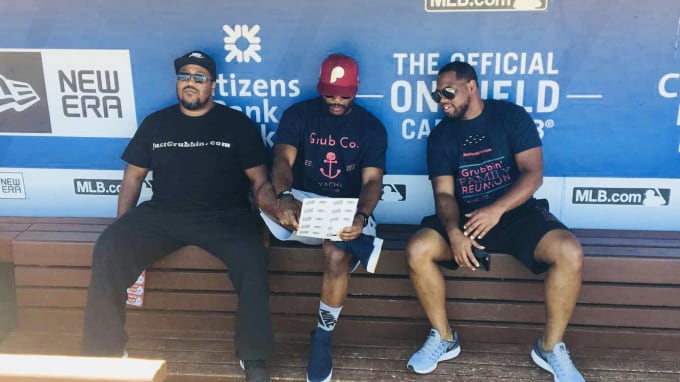 2017 Philadelphia Food & Cheesesteak Festival
+ 21 More
Mo On the field at Citizens Bank Park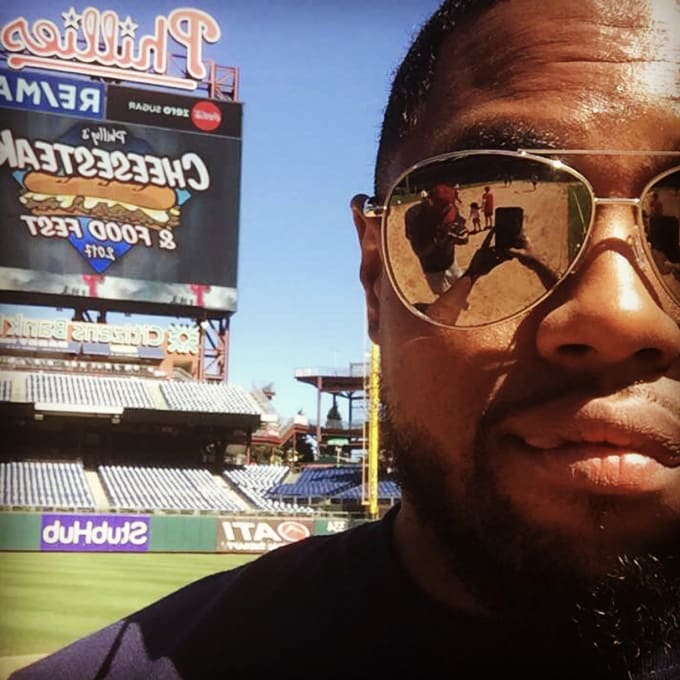 Want a lot, can't have everything… Philadelphia Cheesesteak Festival 2017
Mo: They served me up a cheesesteak I gave 'em back a clean plate. There were many wins and losses at this years festival; mostly wins though with the only losses coming in the form of gut busting satisfaction from putting down too many steak sandwiches. My personal highlights from the event included: Grub Burger Bar offered up a beef and mushroom blend burger patty. This surprisingly delicious patty was dressed with roasted garlic mayo, absinthe sautéed mushrooms, onions, peppers, and provolone cheese. They pretty much knocked it right out of Citizens Bank Park with this amazingly sculpted burger.
Grubaholics didn't miss a beat with their signature jerk chicken cheesesteak which lasted exactly :30 seconds, before finding a home in my belly. Gaul & Co. Malt House came with an interesting take on the classic cheesesteak, their Wit or Witoski sandwich combined locally sourced chipped kielbasa, sautéed onions, and a delicious American cheese sauce. Kudos on the creativity and providing one of the many wins from this years festival.
Grub Burger Bar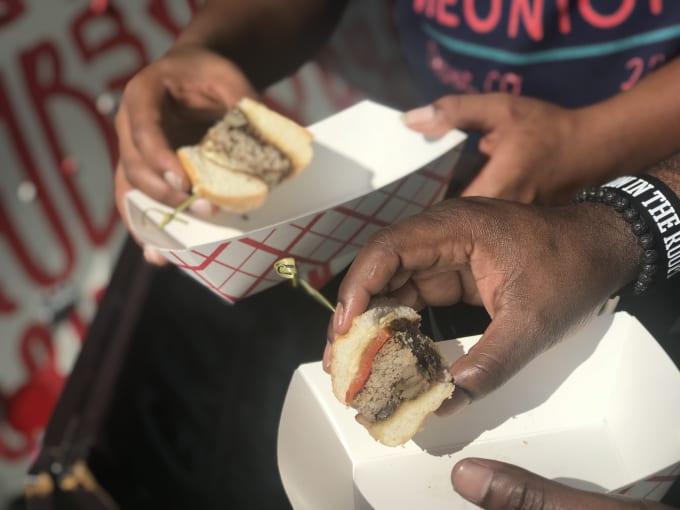 Jamiel & Courtney Going In On One of the Delicious Samples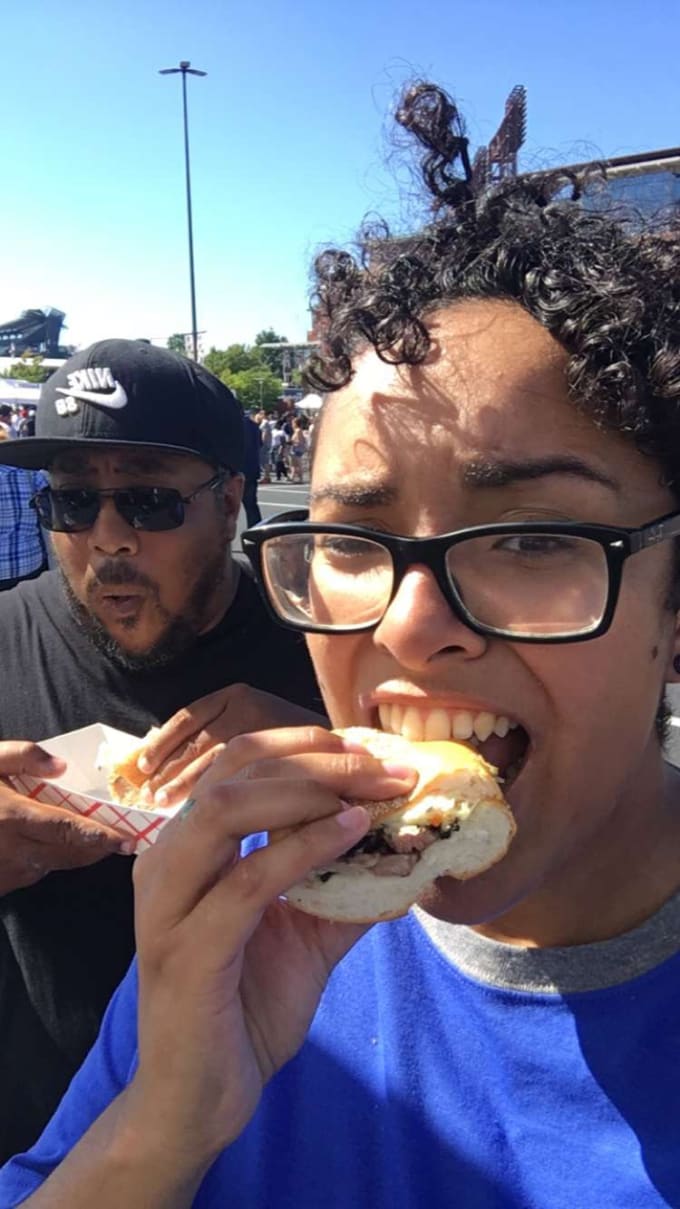 "I can't even tell you how many times I had to step back and really think about what I was eating because the taste profile transcended all comprehension."
Jamiel: I don't even know where to begin. There were cheesesteaks and cheesesteak adjacent goodies literally everywhere. I can't even tell you how many times I had to step back and really think about what I was eating because the taste profile transcended all comprehension.
As soon as we walked in, I tried the jerk chicken cheesesteak from the Sinful Taste truck. Anyone that knows me knows Jamaican food is close to my heart. I pride myself on making Jerk Hut comparable jerk chicken. But yo, the flavors bursting out of this particular cheesesteak put me to shame. It didn't have they peppery profile of traditional jerk chicken. Instead there was a little kick with a slightly oniony sweet burst of flavor. Never had anything like it, honestly. I'll definitely be seeking those guys out again.
Next I tried the not-exactly-cheesesteak cheeseburger from Grub Burger Bar. I still can't figure out what was going on here except it was delicious. It was so good I literally forgot to take pics. Absinthe sautéed mushrooms and the juiciest burger I've had… incomparable.
El Sarape had a great thing going too. They were roasting pork on the big spiny roaster and chopping pineapple with the pork into little tacos. I'd be remiss if I didn't mention that they were putting wiz on the tacos instead of a more tacoey cheese. Now, I'm all for whiz on my steaks, but I really wish they went with a shredded cheese instead. That really would have moved their offering into elite tier. The roasted pineapple as bangin'.
Finally I want to mention Original Philly Cheese Steak Co and their cheese steak egg rolls. These things were slammin'! Courtney, being from Connecticut, seemed really impressed by the concept of combining a cheesesteak and egg roll so I had to assure her that it's really a thing. Thankfully, her first one was perfectly cooked and tasted incredible. Shout out to those guys for having the guts to bring something different to the festival.
Overall the festival was a major success there were tons of people and everyone was having a great time. There wasn't a frown in the entire facility. I'm putting next year's event on my calendar as soon as it's announced. So should you!
El Sarape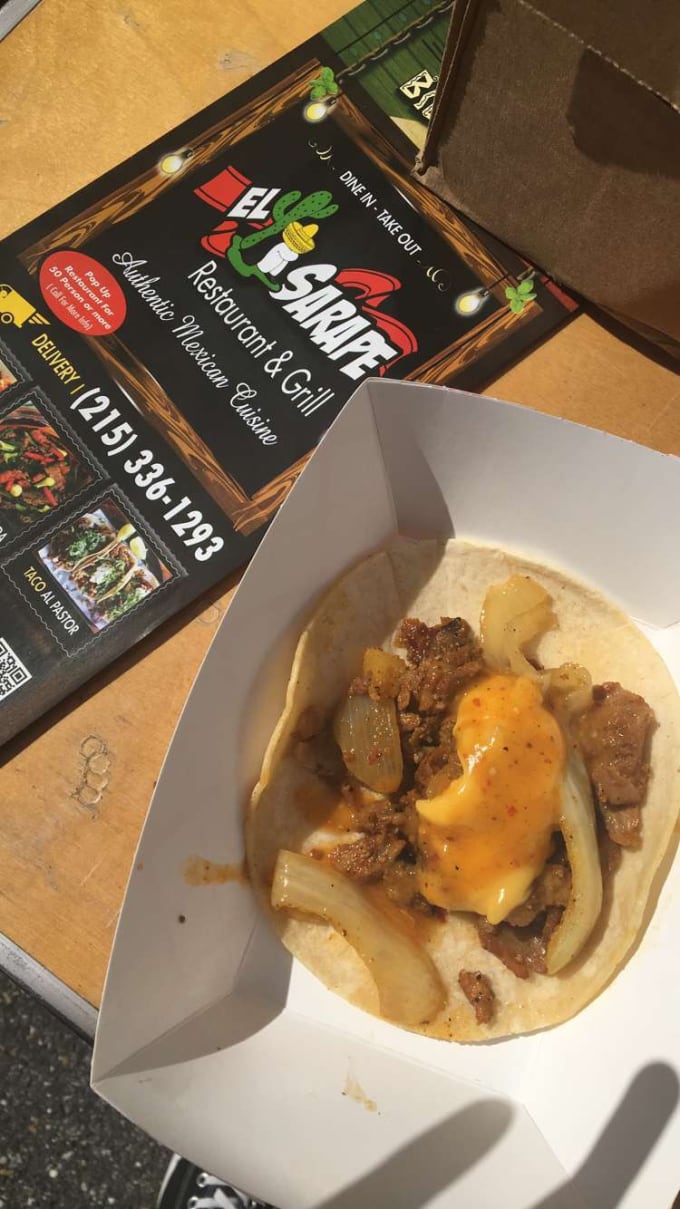 Wayne with WWE's Nasty Boys In the Backdrop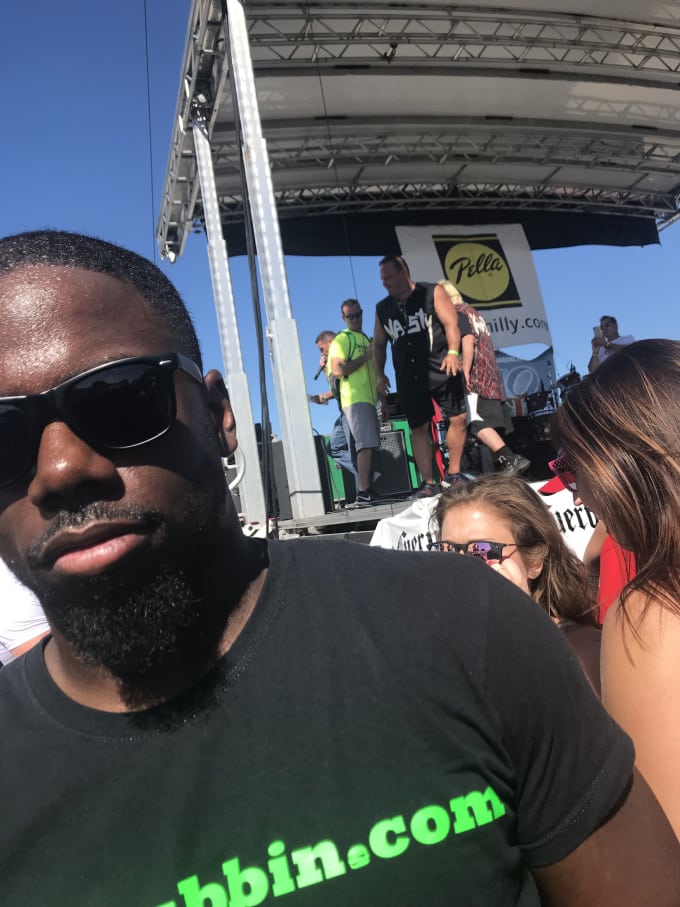 "My favorite part was HANDS DOWN the Cheesesteak Egg Rolls from Philly Co."
Wayne: I had an awesome time at the 2017 Philly Cheesesteak Festival. So many different styles and flavors of cheesesteaks… so amazing. My favorite part was HANDS DOWN the Cheesesteak Egg Rolls from Original Philly Cheesesteak Co. The egg rolls themselves were great to begin with but that custom made thai chili sauce/ketchup….. MANNNNN I was ready to slap everyone with arms reach of me. Soooo delicious.
Brian, the owner, was beyond hospitable from the second I met him until the end of the day he was smiling and greeting people who walked by his spot, even if they didn't stop for his food, which was a mistake on their part. Can't wait to try them again along with some of the other food they offer!
My inner wrestling nerd (even tho I have no inner wrestling nerd because everyone knows I'm a DIE HARD pro wrestling fan) also enjoyed himself because I got to see a couple of my favorites from back in the day, Sagz and Knobs… THE NASTY BOYS! Sagz was a part of the Cheesesteak Eating Competition. And speaking of this cheesesteak eating competition… it was the coolest, most disgusting, dopest, repulsive but still slightly awesome thing I've ever seen. Just people dipping cheesesteaks in water and housing them for 10 minutes straight.
Lauren & Mo with the Cheesesteak Egg Rolls from Original Philadelphia Cheesesteak Co.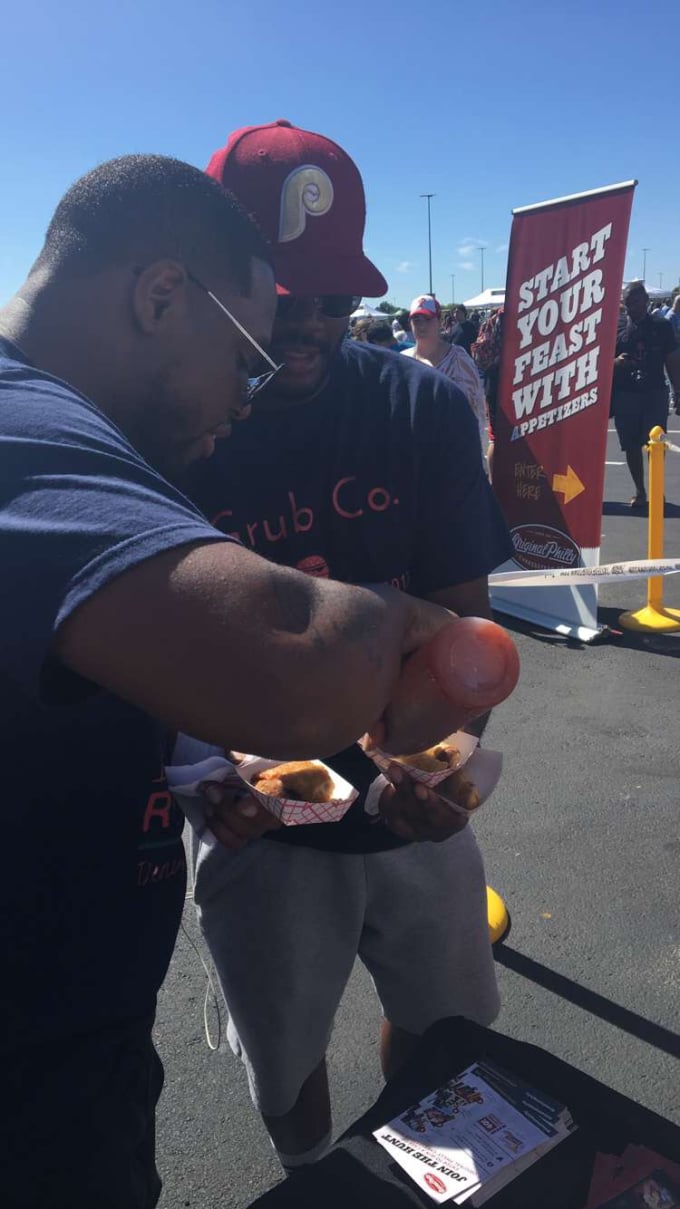 Cheesesteak Eating Competition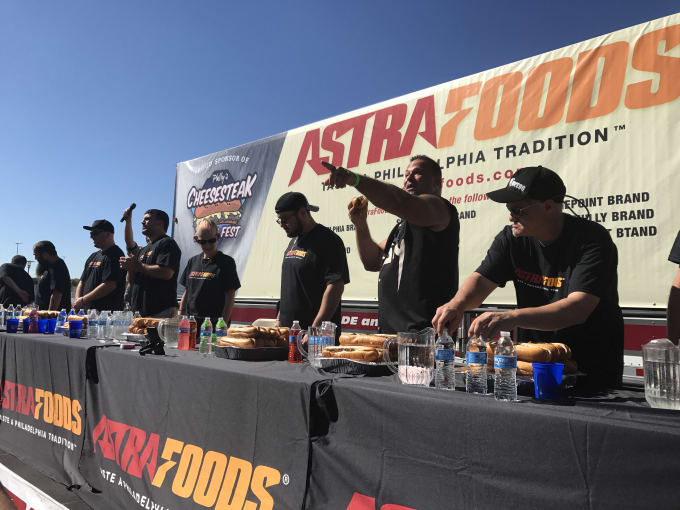 If you enjoyed this make sure to check out more posts from the Just Grubbin team here! Also be on lookout for our video footage on JustGrubbinTV from the festival and listen to The Just Grubbin Podcast to hear us go into further detail on this years event.