Feast.Media – **The JG Blogging Team of Lauren, Mo, Jamiel, Chino, and Big Al covered the chill outdoor party that consisted of numerous food trucks, vendors, an outdoor beer garden and much much more. Here's Mo's recap of the lit time.**
Pbon's Fresh Phood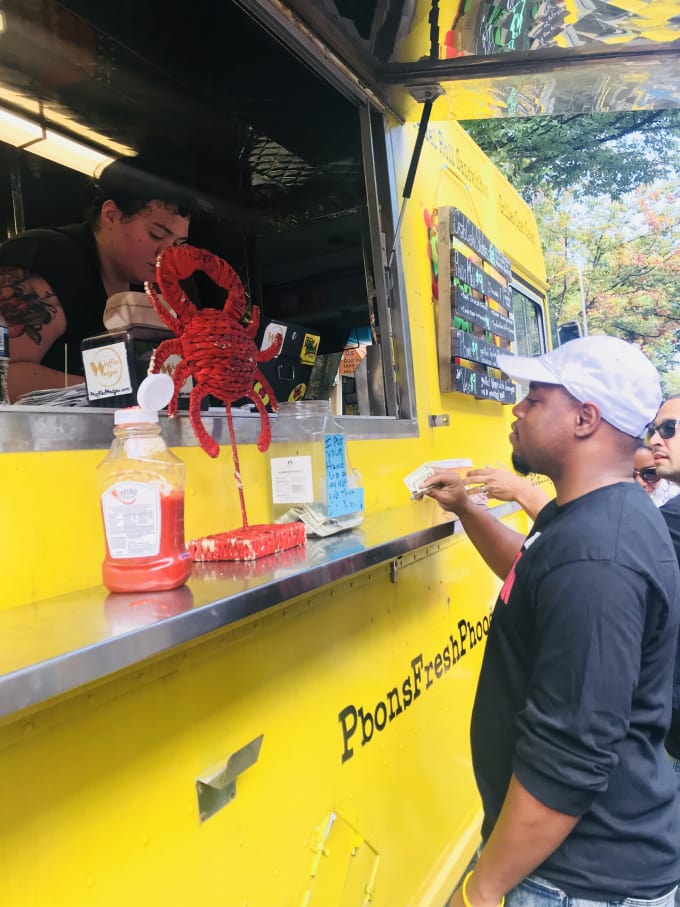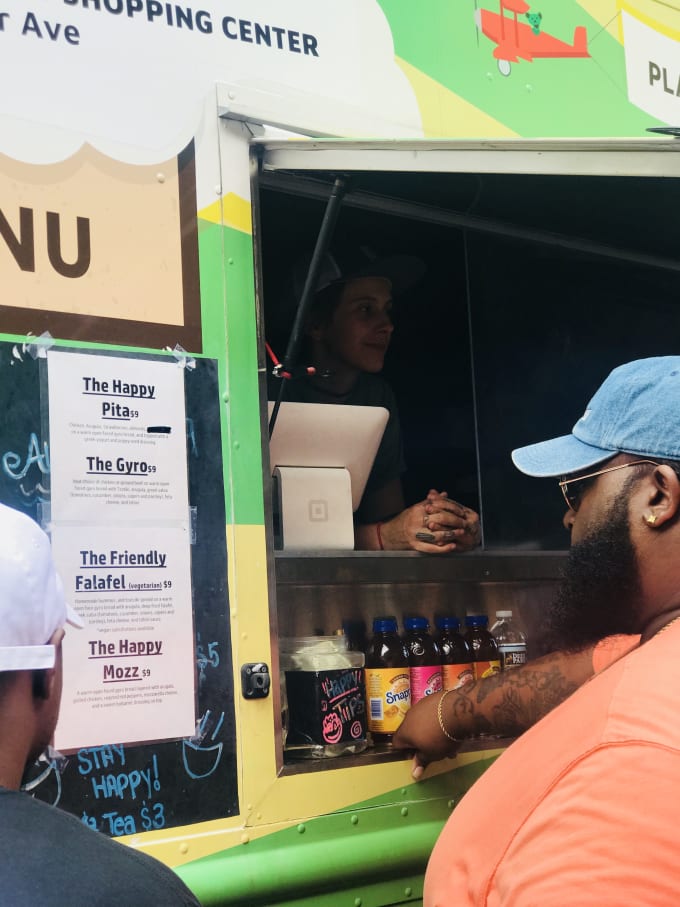 The block is hot, the block is hot
A few weekends ago on a perfect Saturday afternoon the Grubbin money millionaires descended upon South Streets very own BloktoberFest. The air was crisp, the parking was scarce, and the walking was plenty; yet and still JustGrubbin was there to cover another amazing foodie adventure. It was also a day of new beginnings, as fellow grubber Chino's group event cherry was popped.
We decided to jump right in, instead of dipping our toes in, and were rewarded with bomb ass carnita tacos from El Guaco Loco. Tender marinated pork, onions, cilantro, queso fresco, and créme fraîche (maybe) piled on a corn tortilla. It was so delicious I almost told the food truck lady to come to 'mi casa' and we can do the loco thing. The El Guaco Loco thing that is.
El Guacho Loco Carnita Tacos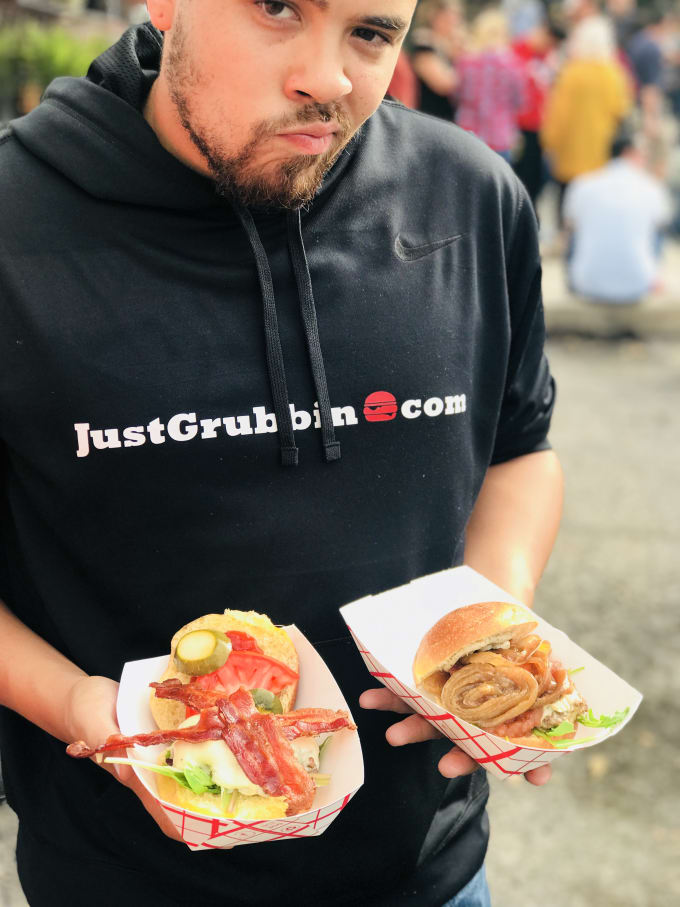 Every flavor playing off each other perfectly like a Bill Belichick offense
Moving right along, the boys in the hood made our minds up that the last taco was so good why not try another. Enter: My Four Suns Korean Fusion. This time around the meat was Korean marinated rib eye. Kim slaw and yum yum sauce blanketed the rib eye placed on a corn tortilla. Simple, straight forward and to the point, which to me gave each ingredient room to stand out and show their asses.
Ok we just ran through two different but deliciously equal tacos, so logically we followed that up with a burrito! Not just any burrito though: a Ho-Lee shrimp sushi burrito from Hai Street Kitchen & Co. I'm going to be honest, when I saw the vendor list I immediately started to anticipate what these guys were going to bring to the table. I was not let down in any way, it was easily my favorite food truck offering. Deep fried tempura shrimp, Asian slaw, wasabi guacamole, beets and spicy mayo manifested in a cohesive culinary masterpiece. Every flavor playing off each other perfectly like a Bill Belichick offense. Chino also had nothing but fantastic things to say about Hai Street Kitchen – here's what he had to say:
Slammin' Salmon – Now one thing about me is, yes I am half Rican half Malaysian Chinese. The Rican side of me loves me some arroz con gandules buttttttt the other half of me loves some sushi. I literally could eat sushi every day like back in my college days. So this past weekend at Blocktoberfest on South St in Philly, I decided to make a stop at this Sushi food truck, mind you I've NEVER seen something like this before in my life. Shout out to Hai Street Kitchen & Co. because they make a BANGING sushi burrito. Yes that's right a Sushi BURRITO! Just picture a giant sushi roll…with with Salmon, romaine, red cabbage, tempura crunch, and all topped with Gochu sauce. Man I was in sushi heaven!!! Had a lot of flavor and nothing was over powering. Seemed perfectly balanced in taste. Now as I mentioned it had some special sauce on it, Gochu sauce, which the sauce was flavorful and just the right amount. It was a like sweet and spicy Sriracha. Same consistency as ketchup and it was drizzled on and not in the burrito. Now personally I wouldn't have minded if they used soy sauce but that Gochu sauce did the burrito justice. Overall that shit was banging and I can't wait to try some different types of sushi burritos they have. Both thumbs up for me!
Sushi Burrito from Hai Street Kitchen and Co.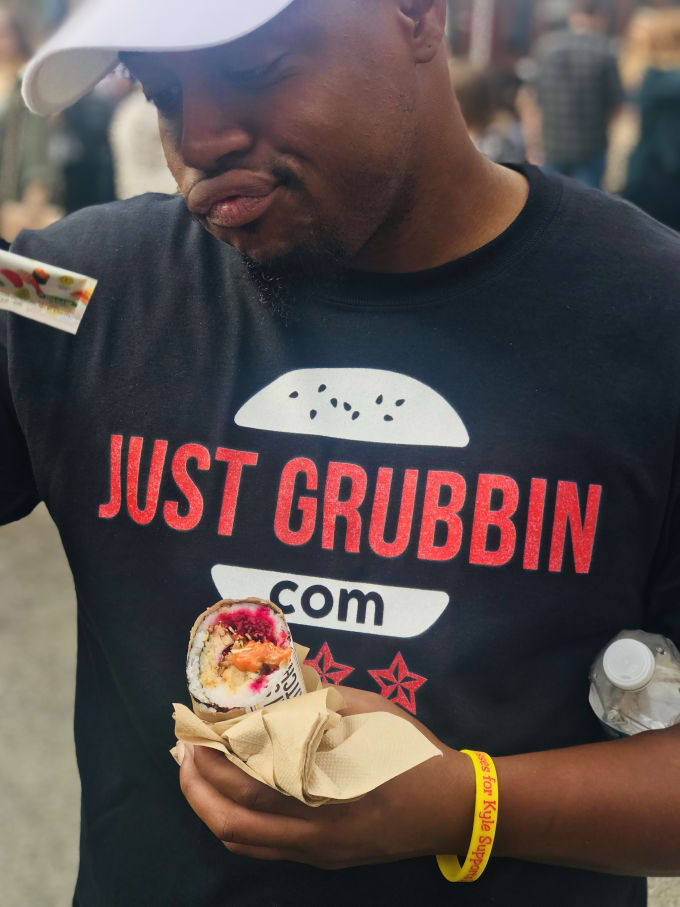 Bloktoberfest 2017
It was so lit by the end of the night Big Al was so strapped to an IV
Lastly but definitely not least we made our way to my favorite food truck tradition: A slappin' ass waffle. This time around it was Waffle & Wedges to the rescue. We were blessed with a beautiful liege waffle topped with bananas, Nutella, and marshmallow sauce! It was the perfect ending to a perfect afternoon. It was so lit by the end of the night Big Al was so strapped to an IV and given fluids to prematurely stop the impending hang over.