feast.media –  The ultimate wine and food lovers retreat took place August 31st-November 13th, 2017 in Orlando, Fl.
**Chris aka WC is a member of the JG blogging team. He recently took a trip to Orlando with his fiancé Jess to partake in this year's Food & Wine Festival.**
Food and Wine Festival is an annual occurrence that has been going on at EPCOT in Walt Disney World for the past 22 years. Yes we did put out an article with tips on how to enjoy the festival. Now, since it ended on November 13, we give you an in-depth review.
I wish I could tell you some really long, funny story on how I was picked to go review food and wine, but it was just a "Hey I'm going with the lady and I'm planning to review it. Cool?" with a "Yeah. Do it. Take pics of everything you eat." So I did take pics of everything I ate… Literally everything. Now I will inform you that I did not try something at every country; I did not have enough money to even think of pulling that off. So I went with trying things that interested me, or sounded so good that I needed to try them or else I'd regret not going for it. So with that in mind, I may not have some countries included and for that I am sorry.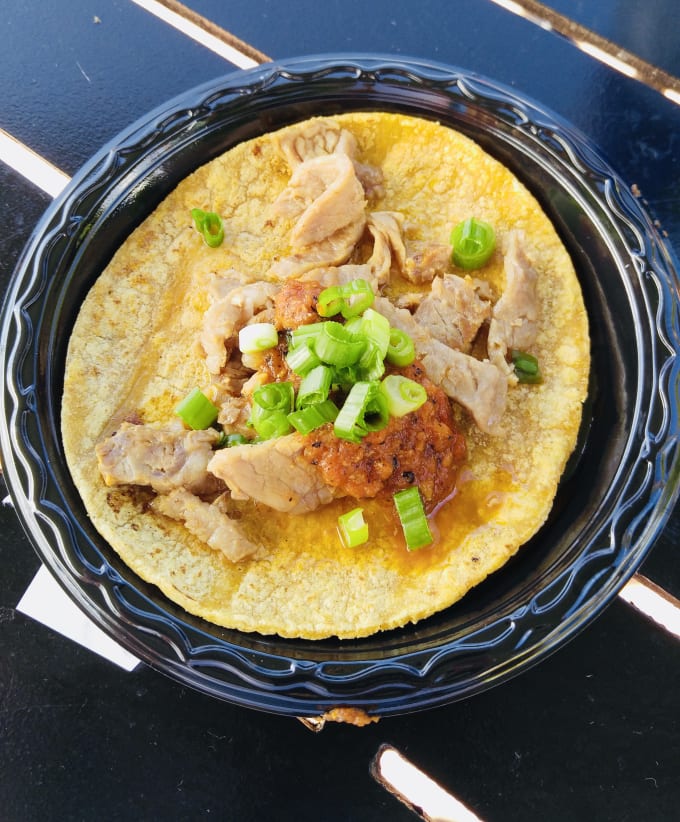 The lady and I started off in Mexico. Why? Because everyone was going right and my fat ass did not want to wait in long ass lines. So we went left and straight to Mexico. I had the ribeye taco there, and I must say, sweet buttery, baby Jesus, this was so damn good. The meat was so tender, perfectly marinated, and full of flavor. It went so well with the chipotle sauce which added the right amount of spice, and the scallions and corn tortilla just accented this so well. It was so good I wanted to get another one right then and there but changed my mind. I needed to carry on.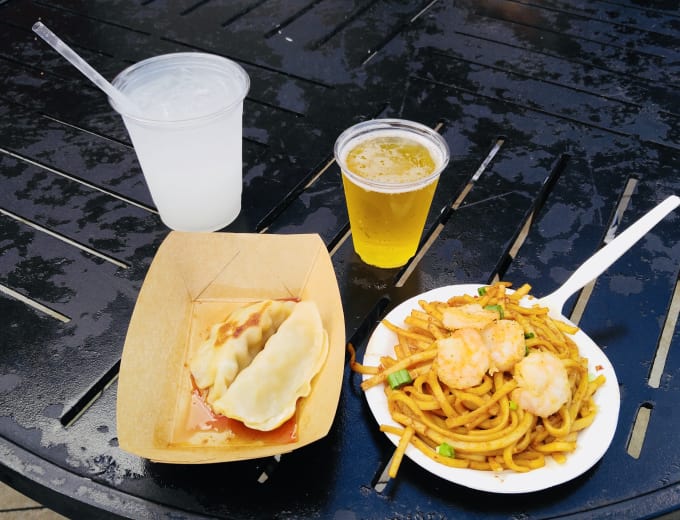 China saw not only myself grabbing some grub, but the lady did as well. She picked up some chicken pot stickers and the BaiJoe punch, while I grabbed the black pepper shrimp with garlic noodles and a Tsingtao lager. The pot stickers were decent. The sauce was something I never tasted before, it was weird but still pleasant. The BaiJoe punch was very refreshing. It was crisp and light with just enough sweetness to keep me interested. Now, the Tsingtao lager was a pretty good light lager; comparable to Michelob Ultra with a more bodied taste to it. The black pepper shrimp, though, was awesome. The shrimp was cooked well and had a nice peppery taste but the noodles, dear God, the noodles were outstanding. Spicy and just a hint of garlic to counter the heat of the spice. I loved those noodles… I loved them a long time.
On our way, I stopped at Africa and picked up a Simonsig Pinotage which was a red wine that was pretty sweet with a dry backend. It wasn't great but not awful. If offered a glass I'd take it, but I wouldn't purchase a bottle myself.
Germany and Italy were the two places that I saw a different side of The lady. In Germany, she apprehended the apple strudel. The apples were flavorful, just a hint of cinnamon, baked to perfection and the vanilla cream really made this one of the best desserts of the festival. The way the cream and apples went together, it was pure Disney magic. So much so that when I asked for another bite, the lady told me to go away or she will be forced to stab me with the plastic fork. The look in her eye told me she was not playing around so I quit and tended to the beverage I acquired. As I took a swig from the Radeberger Zwickel Pilsner I bought, the lady told me that the strudel was good but the raisins took away from the experience. I nodded and continued to drink my pilsner as she took a swig of the Schofferhofer Hefeweizen Pomegranate Beer she picked up. We switched just to try the other's beer and the pomegranate beer was a pleasant surprise. It was a bit fruity but not overpowering. It was smooth and very easy to drink. The Pilsner, however, had a bit of roughness to it. It was an unfiltered brew, which was totally different from what I have had in my years. I did enjoy it thoroughly.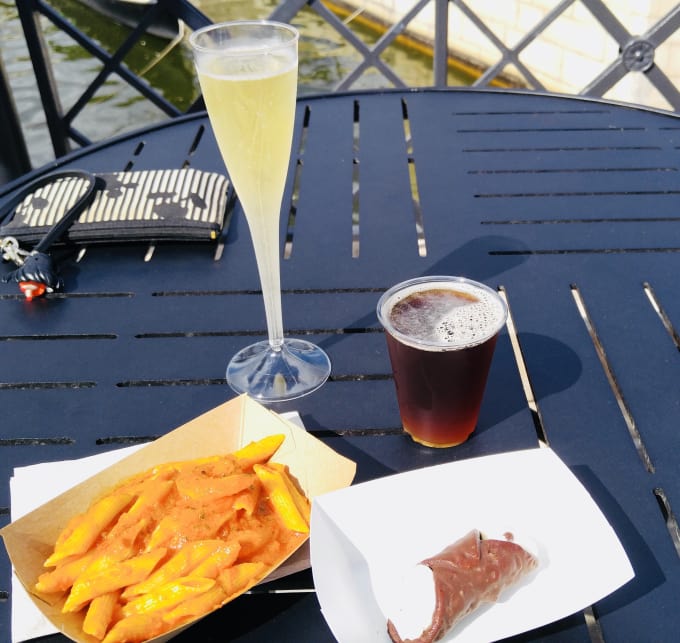 Italy was the home of the absolut penne with shrimp. This was the dish the lady picked up and I did get to have two bites; one was just the penne and the other was the shrimp and both were delicious. The sauce was not something that came from a jar. This shit was homemade with all the love you could handle. Just spicy enough to give the dish a kick but not enough to make those intolerant of spice to push it away. I decided that I should attend to the chocolate cannoli that I just so happened to apprehend in Italy. Now I know why the actor who played Paulie in The Godfather said "Leave the gun, take the cannoli." It was because of this cannoli. The chocolate crust was the perfect complement to the creamy, deliciousness that was inside. I washed down the cannoli with a Loretta La Rossa Double Malt that was oh so smooth with a twang of sweetness to it. I normally don't drink beer after eating sweets but this was not a bad combo at all.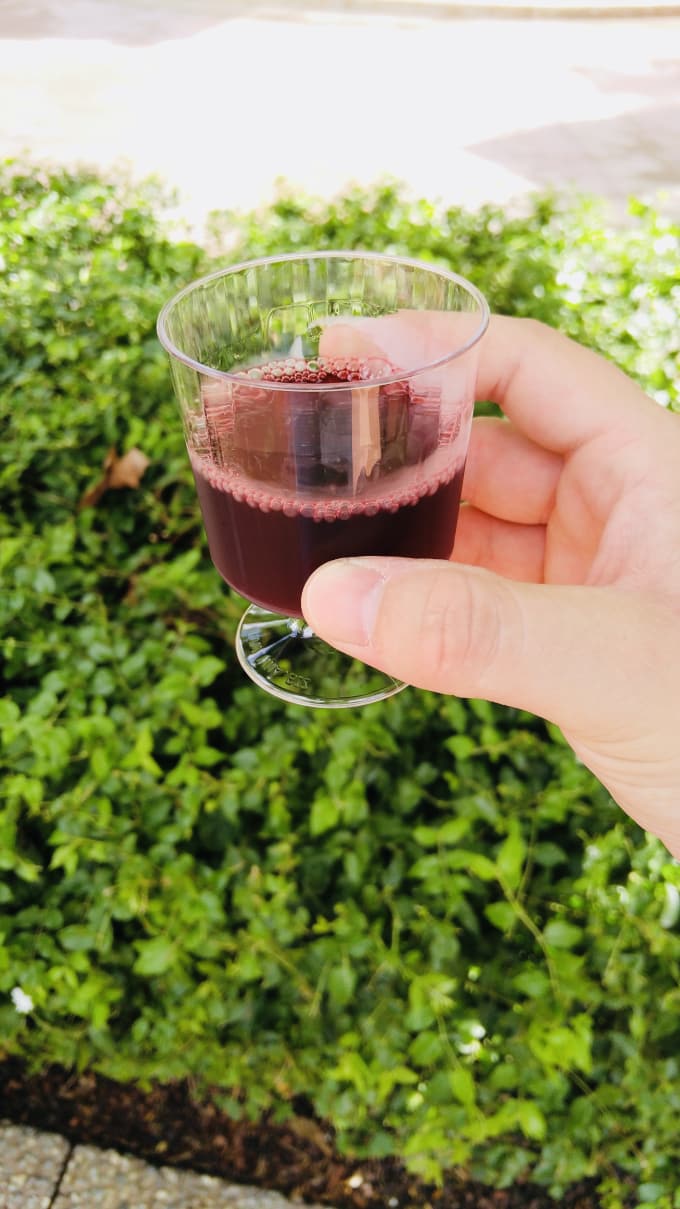 In the "MURICA" (America) section, the lady went with a carrot cake as I decided to try the beef brisket and Anchor Brewing Company Liberty ale. The ale was too hoppy for my tastes. If it wasn't so hoppy I would have enjoyed it more. It did go well with the carrot cake, which tasted like it was a Cinnabon creation. Seriously, it was like carrot cake and a Cinnabon had a love child. The cake was moist and tasty; and the icing was so flippin' good. The beef brisket alone was a bit dry but full of flavor. I tried it with the garlic bread and spreadable cheese and I saw the light. It was fantastic. The flavors of the cheese, garlic bread, and beef came together and went all sorts of America in my face.
Next up was Japan, so the lady and I did not find a dish that we were interested in so we decided to try the Sapporo lager and "Snow Shadow" sake. The Sapporo lager was smooth and tasty on the front end. The back-end reminded me of a Corona except it didn't taste like the mule piss that is Corona. Granted it was harsh but tolerable. I believe they named the "Snow Shadow" sake wrong, because this shit was strong… I mean STRONG… should have been called "Storm Shadow" sake 'cause it kicked some serious ass. Like "You owe the Yakuza more money than God so now we have to brutally beat you to get one eighth of the worth," type beating. It was like drinking a mixture of quality vodka and cheap, shitty vodka. It started off smooth but by the end, it made me want to tap out and plead for mercy.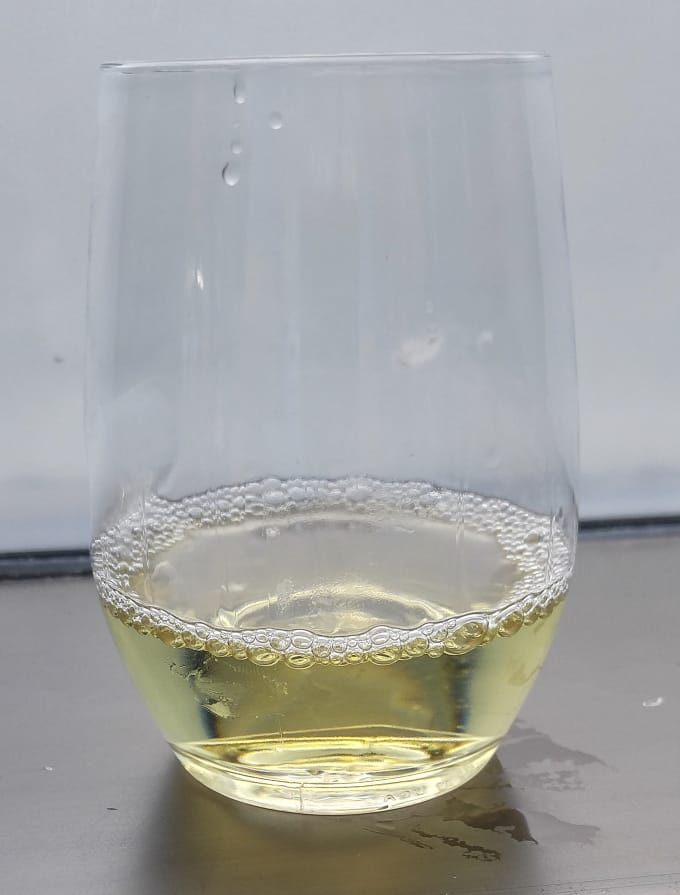 The lady and I made our way to Morocco where I grabbed a Casa Pale lager and a Chocolate Baklava. The pale lager was not horrible, but it had a very flowery aftertaste that I did not like. The baklava, though, was awesome. It tasted like a chocolate hazelnut Pepperidge Farm pirouette, just with a nuttier chocolate filling and a doughier outer layer. I enjoyed it since it was sweet enough to conquer a sweet tooth but not overpoweringly sweet.
Now, obviously if you go to Belgium and they have a waffle available, you get the waffle. This is just what the lady did. We also picked up a chilled coffee and the Leffe Blonde Belgium pale ale. The Belgium waffle had chocolate ganache and whipped cream. The waffle was like cake, sweet, delicious cake. The ganache and whipped cream really came together and made this dessert awesome. The lady also picked up a chilled coffee with Godiva Chocolate Liqueur which was very delightful. I am not a coffee guy per se, but this was very tasty as there wasn't a coffee aftertaste. It honestly reminded me of a mudslide. The pale ale had a nice flavor, but yet again too hoppy for my taste.
Next we wandered into France. The lady picked up the boeuf bourguignon and I grabbed a glass of Bordeaux. The boeuf bourguignon came with mashed potatoes and gravy. The mashed taters and gravy were awesome. The gravy had so much flavor and it really made the taters amazing. The boeuf itself was way too fatty. When we actually got a piece that wasn't fat, it was very tender, juicy, and delicious. The price we paid for it really wasn't worth it due to the excessive amount of fat on the meat. Now the Bordeaux… holy shit. I love red wine. I like wine in general, but I prefer a red wine. This Bordeaux was just so damn good. The boldness and flavor of the wine was just incredible.
Now by this point, I was nearly getting full. However, I had to press on. We went over to Ireland where I picked up the warm chocolate pudding with Irish Cream Liqueur Custard and the Bunratty Meade Honey Wine. I will start off with the wine…. This was the worst thing I bought. Saying it was too sweet is a huge understatement. This wine was ungodly sweet. I like my sweets but no… This is just no. I was pleasantly surprised by the warm chocolate pudding. Honestly, it is just a chocolate lava cake, but it is so damn delicious. The irish cream custard really added a complimentary and different flavor to it. I really enjoyed this.
While we sat and enjoyed the chocolate pudding, we decided to invade Canada. They greeted us with Canadian cheddar cheese soup and wild mushroom beef filet mignon. Now, the cheddar cheese soup was a little mushroomy, but it was goooood. The soft pretzel roll they had with it really made this good. It would be an awesome addition to any local watering hole's menu. The filet was well, a filet. It was so tender, juicy, and so full of flavor. Even though I was really full and needing a nap, I wanted to grab another one before we ended up heading back to our room for a break.
Our second day heading to the festival saw us heading to the Light Lab. This was a place of all sorts of sugary concoctions. The lady and I both picked up Glownuts; she decided on the T=C2 while I picked the RGB. Both drinks were obviously on the sweet side, but honestly if the RGB had some rum or vodka in it, I could see it being a very popular drink. As for the Glownuts, they were huge. Huge size, huge taste and huge in the cool factor. The icing glows and they were just sweet enough that it was a perfect donut.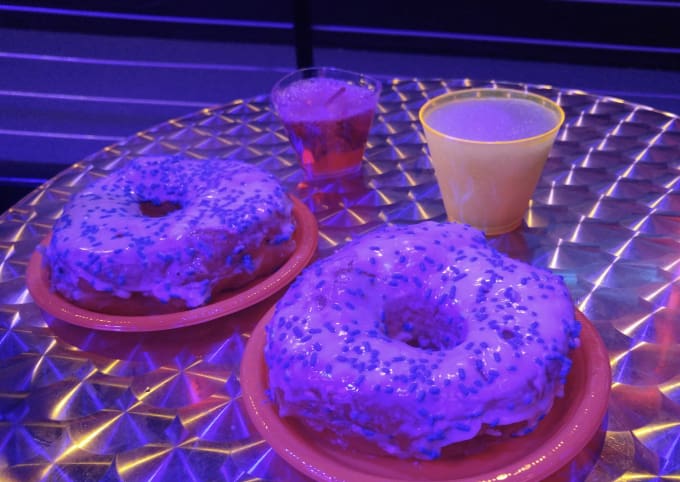 We headed to Earth Eats, which were things inspired by the show The Chew. The lady got the peanut butter and white chocolate mousse with a caramel drizzle. I picked up Kurt Russel's Gogi Wine: Chardonnay "Goldie." The "Goldie" was a pretty solid Chardonnay; it had a nice buttery flavor, and was very smooth. I have had better Chardonnays, but this one was a really good pick. Now the peanut butter & white chocolate mousse was just wow. Rich, sweet, and oh, so smooth. It tasted like the Reese's cheesecake at the Cheesecake Factory.
The next stop on our list was Active Eats. The lady and I both picked up the loaded mac 'n' cheese. The lady was not a fan after two bites of it. So I did what anyone would do: I ate both. This actually turned out to be my downfall on day two. The mac 'n' cheese was so on point, though. The cheesy goodness covering the peppers, green onions, and pepper bacon…. Yes, I said pepper bacon. Even though this contributed to an early exit from the festival, I REGRET NOTHING.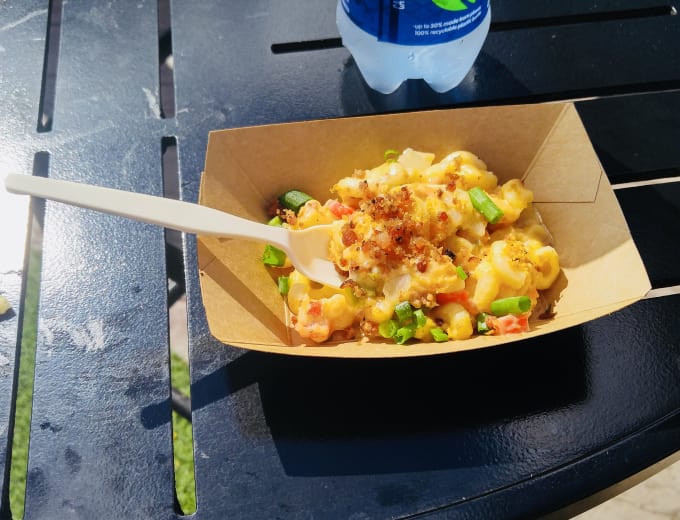 We wandered some more and the lady found a banana almond soft-serve sundae. Now, usually she is not an ice cream gal, but she did put a nice dent into it before she handed it off to me with the instructions of "You know what to do." This was so light and refreshing. It wasn't filling at all. Even though I was full, I had no trouble putting this away and I didn't feel bloated or overfull. The fresh berries and chocolate oats really added texture and flavor to the sundae. I am currently trying to figure out how to make this at my house; it was that good and memorable.
The Food and Wine Festival was such a wonderful experience. I only wish I had more time there, and money to spend. I sadly did not get to try everything that was available but I feel that I got my money's worth on this trip. I honestly highly recommend attending this event at some point. The food is great, the drinks are exceptional, and most importantly, the memories will last a lifetime.
---