Walker mentioned in one of his hilarious blog posts that he would like to see someone from JG rank their top 5 fast food fried chicken spots. Say no more Walk. As someone who fancies himself a fried chicken aficionado because of my 33 years of extensive training eating Ma dukes, my aunties, cousins and grandmas specialty I feel like i'm qualified to take on this mission. Factor in the fact that every single family event we have includes fried chicken and you have yourself an expert folks. This isn't based on just any fried chicken items,for example a Chick-Fil-A sandwich or legit fried chicken restaurants (otherwise Love & Honey Fried Chicken wins)…we're talking drive thru fried chicken or a spot where you can walk right in and right out with your chicken box. Also I had to leave off some of the down south spots that I haven't tried yet or in MAD long. That includes Raising Canes, Bojangles and Zaxbys, so save any of those angry comments. Remember these are my opinions, correct opinions, but mine… so without further ado here's my top 5 fast food fried chicken spots.
I got put on to Royal Farms first from Big Al telling me stories from college about how he and his people would basically eat there all the time after a night of debauchery. I only saw them in Delaware at that time but they recently opened up a few locations near me in NJ and we actually tried it on episode 13 of the Just Grubbin Show. It's definitely delicious chicken, we summarized it basically as a better (actually good?) KFC. I've since explored their menu and I haven't had anything bad yet. If you haven't yet I would recommend checking them out, you can actually run right in and grab a bag of chicken and be on your way.
4. Crown/Kennedy Fried Chicken
Crown Fried clocks in at number 4 for multiple reasons. The first one being, its fucking delicious. I have a running theory that they must bread their wing zings with crack/ cocaine or something similarly addictive. My go to is the spicy wing zing box with fries and the roll ( can't forget that warm roll, always clutch) but you really can't go wrong with any of the chicken items on their menu. I can't speak on everything else because I basically only get that but Crown Fried is a bodega type spot meaning they serve everything. And I'll leave you with this, their almost always open….bruh you can leave the bar and go get delicious fucking chicken!
Church's can actually be pretty polarizing because people either love it or hate it. They come in at number 3 for me because of the clutch level and consistency. My parents have been taking me and Leer to Church's since I can remember so that gives them a little leg up on the competition but that doesn't mean it's still not fantastic chicken. Add in those biscuits glazed with sweet honey butter,banging fried okra, mashed potatoes, mac and cheese and my friends you have yourself a delightful meal. Me personally have never had bad Churchs and they always come through when I decide to stop in and praise the fried chicken gods.
Hip Hop Chicken located in Maryland SKYROCKETED to the number 2 spot out of no where. It's almost like when a team makes a Cinderella Final Four run and has all the professional pundits confused and befuddled. Listen to me though, simply put this is some of the best chicken wings that I have ever had…and I've had a lot. The fact that I included them on my list and their Maryland specific says something. I got my first taste of Hip Hop Chicken when a bunch of the JG team hit Maryland for Hodges Birthday and wooooooo shit did it leave an impression. Full disclosure we just got done day drinking when I tried it but it was so good that we all stopped partying and began destroying that chicken right in the living room and no words were spoken….just moans of joy, I think I may have even shed a tear. It's fried perfectly and the true star is whatever seasoning combination they use, i'm licking my lips just thinking about it. Here's how good this chicken is, on episode 8 Al brought a box all the way from Maryland to New Jersey…and we ate it as is and it was STILL elite.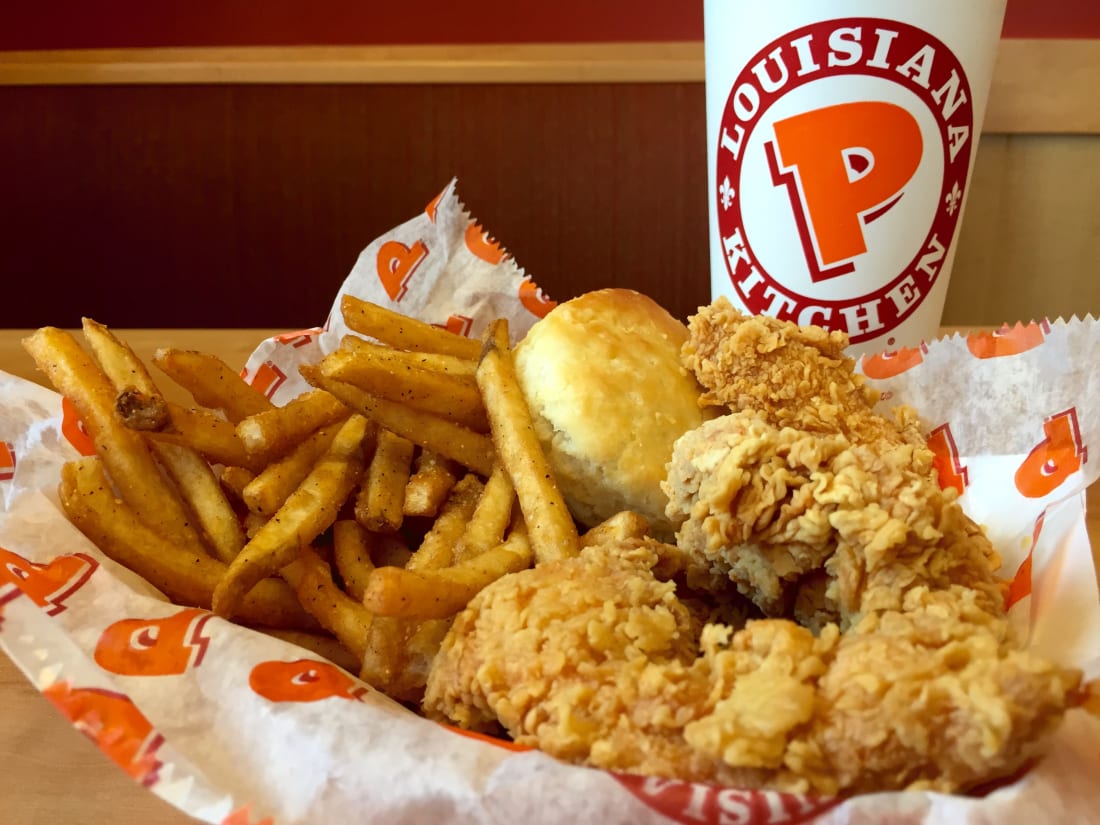 "Looooveee that chicken from Popeyes!" You already know what it is, Popeyes is the clear-cut number 1 for fast food fried chicken. Their the Golden State Warriors or Alabama Football of this fried chicken shit, and if you disagree debate your musty coworker that always talks about his fantasy football team. I don't even have to say much about Popeyes that you don't already know but they come in at number 1 because of quality, consistency, and you can find a Popeyes basically everywhere. It's so good that when they tell you it's going to be a 15 minute wait for spicy you don't leave or change your order…you sit your ass down and mumble under your breath while you wait for your damn spicy. I've said it many times…when I make it down to New Orleans and I hit the Popeyes buffet, yes you read that right…Popeyes has a buffet, I might just die happy right there. They also provided the fuel for one of the best Vines of all time, salute to you Popeyes and congrats on holding on to your #1 spot.
Also a little pro tip because they don't advertise it: On Tuesdays you can get a 2 piece combo for 2 bucks, don't say I never did anything for you.
Honorable Mention
Roy Rogers, Krispy Krunchy Chicken, KFC (begrudgingly but they held me down in my youth when I knew no better) 
---
If you enjoyed this, check out more posts from the Just Grubbin team here! Also make sure to listen to The Just Grubbin podcast to hear us go into further detail about this and to hear all of our random irreverent takes on food, drink and whatever else.