The Benefits of Using Apps for Creating a Wedding Seating Chart
Planning a wedding involves meticulous coordination and attention to detail, and arranging the seating chart for guests is one of the challenges couples face. In today's digital age, apps designed for this task have emerged as invaluable tools.
These apps simplify the process, allowing you to visually arrange and rearrange your plan with a simple drag-and-drop motion in a wedding seating chart template, saving time and reducing stress.
This article will explore the importance and usefulness of these apps in crafting the ideal seating chart for your wedding guests.
Main advantages
Planning the seating arrangements for your wedding can be made easy with the help of user-friendly and intuitive applications. Whether you envision a private gathering or a grand celebration, such applications make the process seamless and stress-free, giving you some great wedding seating chart ideas.
Wedding seating chart applications let you easily map out your custom floor plan and assign seats to your guests, ensuring a smooth and organized event.
Visualize where each guest will sit at every table, taking into account their preferences and relationships. You can effortlessly add your guests and group them, making managing the seating plan for the reception and all other wedding celebration events easier.
Depending on your preference and convenience, some apps let you choose between the chart view and list view options. Such applications are designed to accommodate all guests, from immediate family members to relatives, friends, and colleagues.
Whether it's parents, siblings, cousins, college friends, or coworkers, you can easily seat them all with a dedicated wedding seating chart application.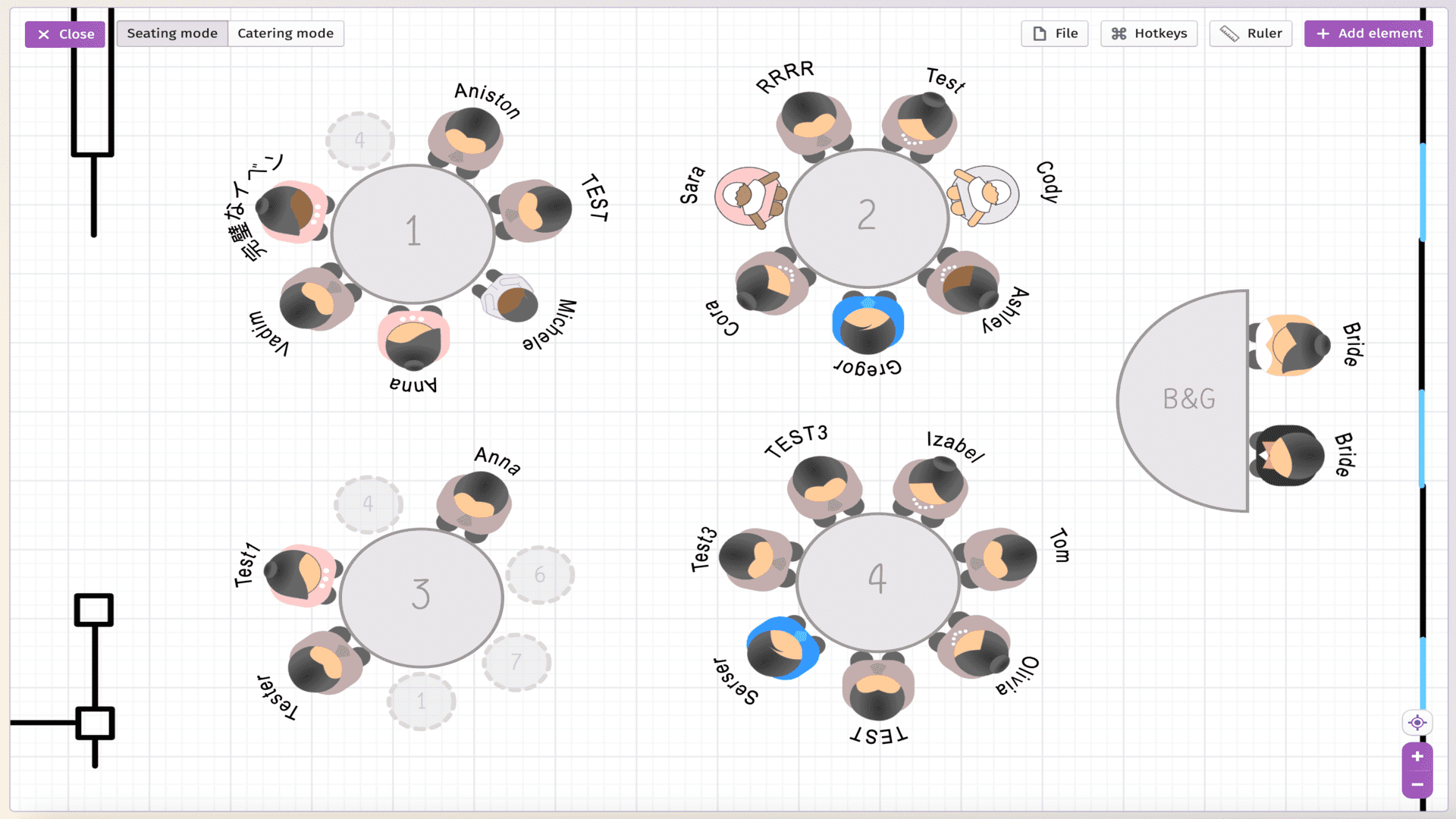 Often, applications take into account the interior of the room as well. Personalize your floor plan by adding tables, a dance floor, a DJ booth, and other elements that reflect your event layout.
With a straightforward drag and drop, you can seamlessly seat your guests, as many applications automatically sync with your guest list.
Say goodbye to the stress of seating arrangements and let the wedding seating chart applications simplify your planning process.
Enjoy a well-organized and harmonious atmosphere for your special day, where guests feel valued and comfortable. Trust professionals to handle the intricate details so you can concentrate on creating amazing memories with your loved ones.
Using a wedding seating chart application can greatly alleviate the daunting task of organizing seating arrangements for your wedding reception. It promotes efficiency and convenience and ensures a harmonious social atmosphere for your guests.
Such digital tools can cater to small, intimate gatherings and large-scale wedding receptions, providing a customizable and interactive interface to plan your seating arrangements visually.
By leveraging this technology, you can focus on the joyous and memorable aspects of your wedding, confident that all guests will be comfortably seated for your big day.